All Quiet on the Western Front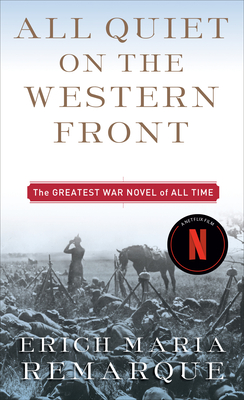 All Quiet on the Western Front
Ballantine Books, Mass Market Paperbound, 9780449213940, 304pp.
Publication Date: March 12, 1987
* Individual store prices may vary.
Buy at Local Store
Enter your zip code below to purchase from an indie close to you.
or
Buy Here
Description
Paul Baumer enlisted with his classmates in the German army of World War I. Youthful, enthusiastic, they become soldiers. But despite what they have learned, they break into pieces under the first bombardment in the trenches. And as horrible war plods on year after year, Paul holds fast to a single vow: to fight against the principles of hate that meaninglessly pits young men of the same generation but different uniforms against each other--if only he can come out of the war alive.
"The world has a great writer in Erich Maria Remarque. He is a craftsman of unquestionably first trank, a man who can bend language to his will. Whether he writes of men or of inanimate nature, his touch is sensitive, firm, and sure."
THE NEW YORK TIMES BOOK REVIEW
About the Author
Erich Maria Remarque, ne Erich Paul Remark, ne le 22 juin 1898 a Osnabruck, mort le 25 septembre 1970 a Locarno, Suisse, est un ecrivain allemand. Son livre "A l'Ouest, rien de nouveau" (Im Westen nichts Neues), roman pacifiste sur la Premiere Guerre mondiale, connut, des sa parution en 1929, un succes mondial retentissant et reste un ouvrage-phare sur le premier conflit mondial. Ce livre fut brule lors des autodafes nazis des 1933. Remarque s'exila en Suisse, puis aux Etats-Unis et y obtint sa naturalisation en 1947. Un mythe, en partie propage par les nazis, pretend qu'il s'appelait - Erich Maria Kramer - et que - Remarque - ne serait que la forme francisee de ce nom inverse.


Praise For All Quiet on the Western Front…
"The world has a great writer in Erich Maria Remarque. He is a craftsman of unquestionably first rank, a man who can bend language to his will. Whether he writes of men or of inanimate nature, his touch is sensitive, firm, and sure."—The New York Times Book Review