The Novel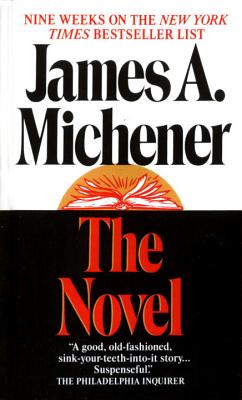 The Novel
Fawcett Books, Mass Market Paperbound, 9780449221433, 448pp.
Publication Date: July 20, 1992
* Individual store prices may vary.
Buy at Local Store
Enter your zip code below to purchase from an indie close to you.
or
Not Currently Available for Direct Purchase
Description
In this riveting, ambitious novel from James A. Michener, the renowned chronicler of epic history turns his extraordinary imagination to a world he knew better than anyone: the world of books. Lukas Yoder, a novelist who has enjoyed a long, successful career, has finished what he believes to be his final work. Then a tragedy strikes in his community, and he becomes obsessed with writing about it. Meanwhile, Yoder's editor fights to preserve her integrity and her author as her firm becomes the target of a corporate takeover; a local critic who teaches literature struggles with his ambitions and with his feelings about Yoder's success; and a devoted reader holds the key to solving the mystery that haunts Yoder's hometown.
Praise for "The Novel"
Michener explores some of the deepest issues raised by narrative literature. "The New York Times"
A good, old-fashioned, sink-your-teeth-into-it story . . . "The Novel" lets us see an unfamiliar side of the author, at the same time portraying the delicate, complex relationship among editors, agents and writers. "The Philadelphia Inquirer"
Michener loves literature, and his information about some of his favorite reading is almost as alluring as his explanation of how to handle a manuscript. Associated Press
So absorbing you simply will not want it] to end. Charleston "News & Courier.
About the Author
Universally revered novelist James A. Michener was forty before he decided on writing as a career. Prior to that, he had been an outstanding academic, an editor, and a U.S. Navy lieutenant commander in the Pacific Theater during World War II. His first book, Tales of the South Pacific, won a Pulitzer Prize and became the basis of the award-winning Rodgers and Hammerstein musical South Pacific. In the course of the next forty years Mr. Michener wrote such monumental bestsellers as Sayonara, The Bridges at Toko-Ri, Hawaii, The Source, Chesapeake, Centennial, Texas, Alaska, Caribbean, and Mexico.
Decorated with America's highest civilian award, the Presidential Medal of Freedom, Mr. Michener served on the Advisory Council to NASA, held honorary doctorates in five fields from thirty leading universities, and received an award from the President's Committee on the Arts and Humanities for his continuing commitment to art in America. James A. Michener died on October 16, 1997.
Praise For The Novel…
"Michener explores some of the deepest issues raised by narrative literature."—The New York Times
 
"A good, old-fashioned, sink-your-teeth-into-it story . . . The Novel lets us see an unfamiliar side of the author, at the same time portraying the delicate, complex relationship among editors, agents and writers."—The Philadelphia Inquirer
 
"Michener loves literature, and his information about some of his favorite reading is almost as alluring as his explanation of how to handle a manuscript."—Associated Press
 
"So absorbing you simply will not want [it] to end."—Charleston News & Courier