The Litigators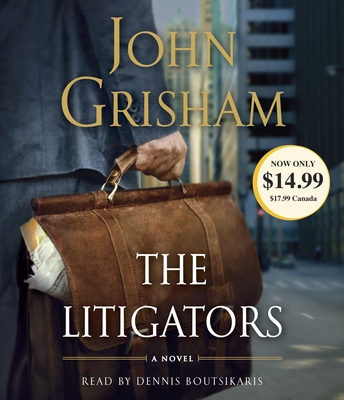 The Litigators
Random House Audio Publishing Group, Compact Disc, 9780449806913
Publication Date: September 11, 2012
* Individual store prices may vary.
Buy Now
or
Shop Local
Enter your zip code below to purchase from an indie close to you.
Description
The partners at Finley & Figg often refer to themselves as a "boutique law firm." Boutique, as in chic, selective, and prosperous. Oscar Finley and Wally Figg are none of these things. They are a two-bit operation of ambulance chasers who bicker like an old married couple. Until change comes their way—or, more accurately, stumbles in. After leaving a fast-track career and going on a serious bender, David Zinc is sober, unemployed, and desperate enough to take a job at Finley & Figg.
 
Now the firm is ready to tackle a case that could make the partners rich—without requiring them to actually practice much law. A class action suit has been brought against Varrick Labs, a pharmaceutical giant with annual sales of $25 billion, alleging that Krayoxx, its most popular drug, causes heart attacks. Wally smells money. All Finley & Figg has to do is find a handful of Krayoxx users to join the suit. It almost seems too good to be true . . . and it is.

Includes an excerpt of John Grisham's Calico Joe and a special preview of his upcoming novel The Racketeer 
From the Paperback edition.
About the Author
Sid Salter, Starkville, Mississippi, is Chief Communications Officer at Mississippi State University. He has been a Mississippi syndicated political columnist for more than thirty years.

Dennis Boutsikaris received an Obie Award for his performance in Sight Unseen and was Mozart in Amadeus on Broadway. His films include *batteries not included, The Dream Team, and Boys On The Side. His TV work includes And Then There Was One, The Last Don and Chasing The Dragon; he was most recently the D.A. of NY in Sidney Lumet's 100 Centre Street.
Praise For The Litigators…
PRAISE FOR THE CONFESSION

"Brilliant . . . Superb . . . the kind of grab-a-reader-by-the-shoulders suspense story that demands to be inhaled as quickly as possible." —Washington Post

"One of Grisham's best efforts in many seasons . . . a rous­ing return to his dexterous good-guy-faces-corrupt-system storytelling." —People magazine

"Packed with tension, legal roadblocks, and shocking rev­elations." —USA Today