Fried Green Tomatoes at the Whistle Stop Cafe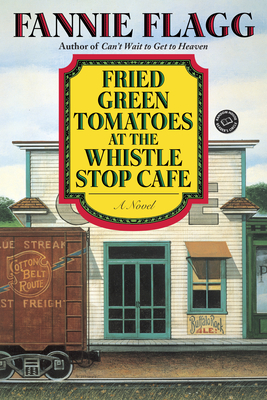 Fried Green Tomatoes at the Whistle Stop Cafe
Ballantine Books, Paperback, 9780449911358, 432pp.
Publication Date: January 21, 1997
* Individual store prices may vary.
Buy at Local Store
Enter your zip code below to purchase from an indie close to you.
or
Buy Here
Description
Folksy and fresh, endearing and affecting, Fried Green Tomatoes at the Whistle Stop Cafe is the now-classic novel of two women in the 1980s; of gray-headed Mrs. Threadgoode telling her life story to Evelyn, who is in the sad slump of middle age. The tale she tells is also of two women--of the irrepressibly daredevilish tomboy Idgie and her friend Ruth--who back in the thirties ran a little place in Whistle Stop, Alabama, a Southern kind of Cafe Wobegon offering good barbecue and good coffee and all kinds of love and laughter, even an occasional murder. And as the past unfolds, the present--for Evelyn and for us--will never be quite the same again...

"Airplanes and television have removed the Threadgoodes from the Southern scene. Happily for us, Fannie Flagg has preserved a whole community of them in a richly comic, poignant narrative that records the exuberance of their lives, the sadness of their departure. Idgie Threadgoode is a true original: Huckleberry Finn would have tried to marry her!"
--Harper Lee, Author of To Kill a Mockingbird

"A real novel and a good one... [from] the busy brain of a born storyteller."
--The New York Times

"It's very good, in fact, just wonderful."
--Los Angeles Times

"Funny and macabre."
--The Washington Post

"Courageous and wise."
--Houston Chronicle
About the Author
FANNIE FLAGG's writing career began behind the scenes of television's "Candid Camera" and progressed to out-in-front as performer-writer. Her acting achievements led to roles in motion pictures including "Five Easy Pieces," with Jack Nicholson; "Stay Hungry," with Jeff Bridges and Sally Field; and, most recently, "Crazy in Alabama," with Melanie Griffith. For the theater in New York she did "Patio Porch "and "Come Back to the Five and Dime, Jimmy Dean, Jimmy Dean," and played the lead role in the Broadway musical "The Best Little Whorehouse in Texas,"
Her first novel, "Daisy Fay and the Miracle Man," was on the "New York Times "bestseller list for ten weeks. Her second, "Fried Green Tomatoes at the Whistle Stop Cafe," praised by Harper Lee and Eudora Welty, was on the "Times" list for thirty-six weeks. It was made into the memorable hit movie "Fried Green Tomatoes," starring Jessica Tandy and Kathy Bates. The screenplay, also written by Flagg, earned her the coveted Scripters Award and was nominated for an Academy Award and the Writers Guild of America Screen Award. Her reading of the Random House audiobook received a Grammy nomination.
That book gave way to an even bigger hardcover success for "Welcome to the World, Baby Girl!, "a "New York Times "Notable Book of the Year, which "The Christian Science Monitor "called "captivating . . . a comic novel to open with open arms." Flagg lives in California and in Alabama.
Praise For Fried Green Tomatoes at the Whistle Stop Cafe…
"The people in Miss Flagg's book are as real as the people in books can
be. If you put an ear to the pages, you can almost hear the characters
speak. The writer's imaginative skill transforms simple, everyday events
into complex happenings that take on universal meanings."

--Chattanooga Times

"This whole literary enterprise shines with honesty, gallantry, and love
of perfect details that might otherwise be forgotten."

--Los Angeles Times

"A sparkling gem."

--Birmingham News

"Watch out for Fannie Flagg. When I walked into the Whistle Stop Cafe she
fractured my funny bone, drained my tear ducts, and stole my heart."

--Florence King, Author of Confessions of a Failed Southern Lady


"Admirers of the wise child in Flagg's first novel, Coming Attractions,
will find her grown-up successor, Idgie, equally appealing. The book's
best character, perhaps, is the town of Whistle Stop itself--too bad
trains don't stop there anymore."

--Publisher's Weekly