Three Comrades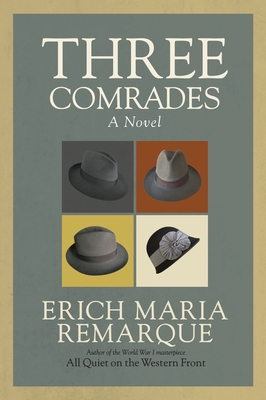 Three Comrades
Ballantine Books, Paperback, 9780449912423, 488pp.
Publication Date: January 27, 1998
* Individual store prices may vary.
Buy Now
or
Shop Local
Enter your zip code below to purchase from an indie close to you.
Description
From the acclaimed author of "All Quiet on the Western Front" comes "Three Comrades, "a harrowing novel that follows a group of friends as they cope with upheaval in Germany between World Wars I and II.
The year is 1928. On the outskirts of a large German city, three young men are earning a thin and precarious living. Fully armed young storm troopers swagger in the streets. Restlessness, poverty, and violence are everywhere. For these three, friendship is the only refuge from the chaos around them. Then the youngest of them falls in love, and brings into the group a young woman who will become a comrade as well, as they are all tested in ways they can have never imagined.
Written with the same overwhelming simplicity and directness that made "All Quiet on the Western Front "a classic, "Three Comrades "portrays the greatness of the human spirit, manifested through characters who must find the inner resources to live in a world they did not make, but must endure.
"The world has a great writer in Erich Maria Remarque. He is a craftsman of unquestionably first rank, a man who can bend language to his will. Whether he writes of men or of inanimate nature, his touch is sensitive, firm, and sure."--"The New York Times Book Review.
About the Author
Erich Maria Remarque, ne Erich Paul Remark, ne le 22 juin 1898 a Osnabruck, mort le 25 septembre 1970 a Locarno, Suisse, est un ecrivain allemand. Son livre "A l'Ouest, rien de nouveau" (Im Westen nichts Neues), roman pacifiste sur la Premiere Guerre mondiale, connut, des sa parution en 1929, un succes mondial retentissant et reste un ouvrage-phare sur le premier conflit mondial. Ce livre fut brule lors des autodafes nazis des 1933. Remarque s'exila en Suisse, puis aux Etats-Unis et y obtint sa naturalisation en 1947. Un mythe, en partie propage par les nazis, pretend qu'il s'appelait - Erich Maria Kramer - et que - Remarque - ne serait que la forme francisee de ce nom inverse.


Praise For Three Comrades…
"The world has a great writer in Erich Maria Remarque. He is a craftsman of unquestionably first rank, a man who can bend language to his will. Whether he writes of men or of inanimate nature, his touch is sensitive, firm, and sure."—The New York Times Book Review