Spark of Life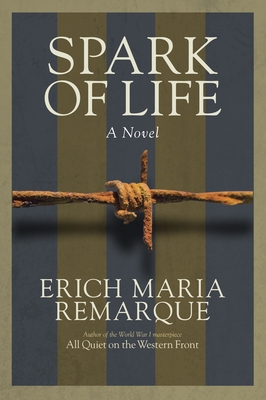 Spark of Life
Ballantine Books, Paperback, 9780449912515, 365pp.
Publication Date: April 1, 2014
* Individual store prices may vary.
Buy Now
or
Shop Local
Enter your zip code below to purchase from an indie close to you.
Description
In "Spark of Life, "a powerful classic from the renowned author of "All Quiet on the Western Front, "one man's dream of freedom inspires a valiant resistance against the Nazi war machine.
For ten years, 509 has been a political prisoner in a German concentration camp, persevering in the most hellish conditions. Deathly weak, he still has his wits about him and he senses that the end of the war is near. If he and the other living corpses in his barracks can hold on for liberation or force their own then their suffering will not have been in vain.
Now the SS who run the camp are ratcheting up the terror. But their expectations are jaded and their defenses are down. It is possible that the courageous yet terribly weak prisoners have just enough left in them to resist. And if they die fighting, they will die on their own terms, cheating the Nazis out of their devil's contract.
The world has a great writer in Erich Maria Remarque. He is a craftsman of unquestionably first rank, a man who can bend language to his will. Whether he writes of men or of inanimate nature, his touch is sensitive, firm, and sure. "The New York Times Book Review.
About the Author
Erich Maria Remarque, ne Erich Paul Remark, ne le 22 juin 1898 a Osnabruck, mort le 25 septembre 1970 a Locarno, Suisse, est un ecrivain allemand. Son livre "A l'Ouest, rien de nouveau" (Im Westen nichts Neues), roman pacifiste sur la Premiere Guerre mondiale, connut, des sa parution en 1929, un succes mondial retentissant et reste un ouvrage-phare sur le premier conflit mondial. Ce livre fut brule lors des autodafes nazis des 1933. Remarque s'exila en Suisse, puis aux Etats-Unis et y obtint sa naturalisation en 1947. Un mythe, en partie propage par les nazis, pretend qu'il s'appelait - Erich Maria Kramer - et que - Remarque - ne serait que la forme francisee de ce nom inverse.


Praise For Spark of Life…
"The world has a great writer in Erich Maria Remarque. He is a craftsman of unquestionably first rank, a man who can bend language to his will. Whether he writes of men or of inanimate nature, his touch is sensitive, firm, and sure."—The New York Times Book Review