The Sparrow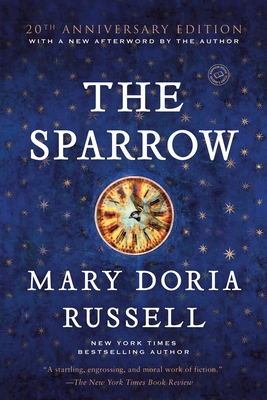 The Sparrow
Ballantine Books, Paperback, 9780449912553, 432pp.
Publication Date: September 8, 1997
* Individual store prices may vary.
Buy Now
or
Shop Local
Enter your zip code below to purchase from an indie close to you.
Description
"A NOTABLE ACHIEVEMENT . . . Russell shows herself to be a skillful storyteller who subtly and expertly builds suspense."
--USA Today

"AN EXPERIENCE NOT TO BE MISSED . . . If you have to send a group of people to a newly discovered planet to contact a totally unknown species, whom would you choose? How about four Jesuit priests, a young astronomer, a physician, her engineer husband, and a child prostitute-turned-computer-expert? That's who Mary Doria Russell sends in her new novel, The Sparrow. This motley combination of agnostics, true believers, and misfits becomes the first to explore the Alpha Centuri world of Rakhat with both enlightening and disastrous results. . . . Vivid and engaging . . . An incredible novel."
--Milwaukee Journal Sentinel

"POWERFUL . . . Father Emilio Sandoz [is] the only survivor of a Jesuit mission to the planet Rakhat, 'a soul . . . looking for God.' We first meet him in Italy . . . sullen and bitter. . . . But he was not always this way, as we learn through flashbacks that tell the story of the ill-fated trip. . . . The Sparrow tackles a difficult subject with grace and intelligence."
--San Francisco Chronicle

"SMOOTH STORYTELLING AND GORGEOUS CHARACTERIZATION . . . Important novels leave deep cracks in our beliefs, our prejudices, and our blinders. The Sparrow is one of them."
--Entertainment Weekly
About the Author
Mary Doria Russell is the author of five previous books, The Sparrow, Children of God, A Thread of Grace, Dreamers of the Day, and Doc, all critically acclaimed commercial successes. Dr. Russell holds a PhD in biological anthropology. She lives in Lyndhurst, Ohio.
Praise For The Sparrow…
Excerpts from reviews of Mary Doria Russell's The Sparrow

"It is science fiction brought back to the project with which it began in
the hands of a writer like Jules Verne: the necessity of wonder, the hope
for moral rectitude, and the possibility of belief."

--America


"Russell's debut novel...focuses on her characters, and it is here that
the work truly shines. An entertaining infusion of humor keeps the book
from becoming too dark, although some of the characters are so clever that
they sometimes seem contrived. Readers who dislike an emphasis on moral
dilemmas or spiritual quests may be turned off, but those who enjoy
science fiction because it can create these things are in for a real
treat."

--Science Fiction Weekly


"The Sparrow tackles a difficult subject with grace and
intelligence."

--San Francisco Chronicle


"The Sparrow is an incredible novel, for one reason. Though it is
set in the early twenty-first century, it is not written like most science
fiction. Russell's novel is driven by her characters, by their complex
relationships and inner conflicts, not by aliens or technology."

--Milwaukee Journal Sentinel


"It is rare to find a book about interplanetary exploration that has this
much insight into human nature and foresight into a possible future."

--San Antonio Express News


"Two narratives--the mission to the planet and its aftermath four decades
later--interweave to create a suspenseful tale."

--The Seattle Times


"By alternating chapters that dramatize Sandoz's tough-love interrogation
with flashbacks to the mission's genesis, flowering, and tragic collapse,
The Sparrow casts a strange, unsettling emotional spell, bouncing
readers from scenes of black despair to ones of wild euphoria, from the
bracing simplicity of pure adventure to the complicated tangles of
nonhuman culture and politics.--The smooth storytelling and gorgeous
characterization can't be faulted."

--Entertainment Weekly