Jackdaws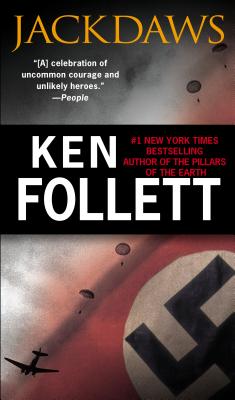 Jackdaws
Penguin Books, Mass Market Paperbound, 9780451207524, 512pp.
Publication Date: November 26, 2002
* Individual store prices may vary.
Buy at Local Store
Enter your zip code below to purchase from an indie close to you.
or
Buy Here
Description
In his own bestselling tradition of Eye of the Needle and The Key to Rebecca, Ken Follett delivers a breathtaking novel of suspense set in the most dangerous days of World War II.
D-Day is approaching. They don't know where or when, but the Germans know it'll be soon, and for Felicity "Flick" Clariet, the stakes have never been higher. A senior agent in the ranks of the Special Operations Executive (SOE) responsible for sabotage, Flick has survived to become one of Britain's most effective operatives in Northern France. She knows that the Germans' ability to thwart the Allied attack depends upon their lines of communications, and in the days before the invasion no target is of greater strategic importance than the largest telephone exchange in Europe.
But when Flick and her Resistance-leader husband try a direct, head-on assault that goes horribly wrong, her world turns upside down. Her group destroyed, her husband missing, her superiors unsure of her, her own confidence badly shaken, she has one last chance at the target, but the challenge, once daunting, is now near impossible. The new plan requires an all-woman team, none of them professionals, to be assembled and trained within days. Code-named the Jackdaws, they will attempt to infiltrate the exchange under the noses of the Germans--but the Germans are waiting for them now and have plans of their own. There are secrets Flick does not know--secrets within the German ranks, secrets among her hastily recruited team, secrets among those she trusts the most. And as the hours tick down to the point of no return, most daunting of all, there are secrets within herself. . . .
Filled with the powerful storytelling, unforgettable characters, and authentic detail that have become his hallmarks, Jackdaws is Ken Follett writing at the height of his powers.
About the Author
Ken Follett burst into the book world with Eye of the Needle, an award-winning thriller and international bestseller. After several more successful thrillers, he surprised everyone with The Pillars of the Earth and its long-awaited sequel, World Without End, a national and international bestseller. Follett's new, magnificent historical epic, the Century Trilogy, includes the bestselling Fall of Giants, Winter of the World, and Edge of Eternity. He lives in England with his wife, Barbara.
Praise For Jackdaws…
"The book's celebration of uncommon courage and unlikely heroes couldn't be better timed…a distaff Dirty Dozen."—People
 
"With its vivid characters, suspense, patriotism, and examples of supreme bravery, Jackdaws is a fitting tribute to the women of World War II."—Orlando Sentinel
 
"Compelling reading…great entertainment."—The Baltimore Sun
 
"A very entertaining, very cinematic thriller about a ragtag, all-female band of British agents, code-named Jackdaws, sent to blow up a key telephone exchange in France on the eve of D-Day…[Jackdaws] promises to be one of Follett's most popular novels ever."
—Publishers Weekly
 
"Cleverly plotted…the characters are sharply drawn and fully realized [and] the pace is rapid-fire."—Minneapolis Star-Tribune
 
"A sort of distaff dirty (half) dozen. They don't come any tougher, smarter, braver, or, for that matter, deadlier than Major Felicity (call her 'Flick') Clairet. Quintessentially female and sexy as all get out, she kills without compunction if that's the way the mission goes."—Kirkus Reviews
 
"Carried off with the kind of galvanic skill that was the hallmark of Follett's early books…a memorable, complex heroine."—Publishing News
 
"For fans of the '60s movie The Dirty Dozen, this could be called The Perfumed Six…It's certainly pleasant to have the main characters be female."—The Buffalo News
 
"[Follett is] dead on-target…updating that World War II workhorse in which a gang of misfits goes behind Nazi lines to do the impossible…thoroughly entertaining."—Booklist
 
"Suspenseful, gripping."—New York Post
 
"Deeply satisfying."—Entertainment Weekly
 
"Follett delivers one of his most entertaining thrillers."—Denver Post