The Other Woman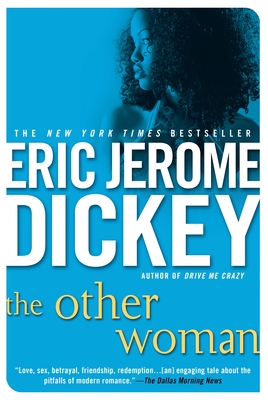 The Other Woman
Dutton Books, Paperback, 9780451211934, 336pp.
Publication Date: June 29, 2004
* Individual store prices may vary.
Buy Now
or
Shop Local
Enter your zip code below to purchase from an indie close to you.
Description
Eric Jerome Dickey strides boldly over the minefield that is modern marriage. The central couple's biggest challenge is timing: He works days; she works nights. Instead of growing together, they're rapidly drifting apart, coexisting on stolen phone calls from work, punctuated by occasional bedroom encounters that leave them both feeling even emptier and more alone. When she finds out about his affair-and starts her own-the delicate fabric of their marriage is torn irrevocably asunder. Or is it? In Dickey's expert hands, what begins as a seemingly unforgivable betrayal segues into the sexy and searing story of a man and a woman at a pivotal turning point in their relationship. Only time will tell whether they'll let it all go...or can hold on to the love that drew them together in the first place.
About the Author
Originally from Memphis, Tennessee, Eric Jerome Dickey is the author of fifteen novels, including the New York Times bestsellers Chasing Destiny, Genevieve, Drive Me Crazy, Naughty or Nice, The Other Woman, and Thieves Paradise. He is also the author of a six-issue miniseries of comic books for Marvel Enterprises featuring Storm (X-Men) and the Black Panther. His novel, Naughty or Nice, has been optioned by Lionsgate Films. He lives on the road and rests in Southern California.