Mademoiselle Boleyn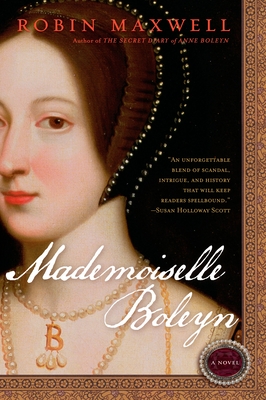 Mademoiselle Boleyn
New American Library, Paperback, 9780451222091, 355pp.
Publication Date: November 1, 2007
* Individual store prices may vary.
Buy Now
or
Shop Local
Enter your zip code below to purchase from an indie close to you.
Description
When her father is assigned the task of spying on the French Court, the charming and sweetly innocent Anne Boleyn is delighted by the thought of a new adventure. And she is not to be disappointed, for her beautiful sister, Mary, has been handed a mission: to let herself be seduced by the King of France in order to uncover his secrets.
Mesmerized by the thrilling passion, intrigue, and betrayal that unfolds, Anne discovers the power of being a woman who catches the eye of a powerful king. And, as she grows into a beautiful young woman, she undergoes her own sexual awakening, each daring exploit taking her one step closer to the life that is her destiny.
About the Author
Robin Maxwell is the author of "The Secret Diary of Anne Boleyn." She lives in California and is currently working on a prequel to "The Queen's Bastard."
Praise For Mademoiselle Boleyn…
"Robin Maxwell offers a fascinating glimpse at the ambitious girl who will grow into the infamous queen. An unforgettable blend full of scandal, intrigue, and history that will keep readers spellbound as Anne's inevitable destiny unfolds." -Susan Holloway Scott, author of Duchess "Absolutely superb! Mademoiselle Boleyn is one of the most lush and beautiful historical novels I have ever read, I seriously could not put it down." -Diane Haeger, author of The Perfect Royal Mistress "Reading Maxwell's brilliant new novel, it's easy to see why Anne is the "Boleyn girl" who changed the course of history, and why she is the source of never ending fascination. We are finally able to catch a glimpse of Anne Boleyn before her enemies vilified her, while she was still just a young woman looking for true love. I couldn't put it down." -Michelle Moran, author of Nefertiti "Anne Boleyn fans will cry huzzah! when they learn that novelist Robin Maxwell has returned to her Tudor roots. In this saucy romp, a prequel to her Secret Diary, Maxwell writes in the remembered voice of a child -- a tricky feat indeed. Readers will find much to delight in, from finely drawn secondary characters like Leonardo da Vinci to scintillating descriptions of the French glitterati and the royal court. Frothy and French as its main setting, Maxwell's work nevertheless conveys a gravitas that foretells Mademoiselle Boleyn's eventual fate, especially in the novel's exploration of the motives of Henry Percy, Anne's first love and her ultimate betrayer." -Vicki Leon, author of Working IX to V "Historically plausible account of Anne Boleyn's adolescence in France as a courtier of King Francois. Maxwell's prequel to her first novel (The Secret Diary of Anne Boleyn, 1997) explores Anne's upbringing far from England...Lavishly imagined detail-regarding entertainment, dress and habits of the time-adds depth to this work...accomplished rehabilitation of much-maligned Anne as an empowered woman." -Kirkus Reviews "The author of The Secret Diary of Anne Boleyn and The Queen's Bastard returns with a look at the future queen of England before Henry VIII comes into her life...The budding romance between Anne and her paramour Percy is feelingly described, and all the more poignant when one knows the outcome. Maxwell delivers a ripping piece of historical romance." -Publishers Weekly