Land of a Hundred Wonders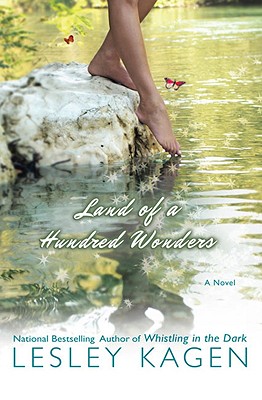 Land of a Hundred Wonders
New American Library, Paperback, 9780451224095, 320pp.
Publication Date: July 29, 2008
* Individual store prices may vary.
Buy at Local Store
Enter your zip code below to purchase from an indie close to you.
or
Not Currently Available for Direct Purchase
Description
From the national bestselling author of Whistling in the Dark comes another funny, poignant, unforgettable story.
The summer Gibby McGraw catches her big break, the cicadas are humming, and it's so warm even the frogs are sweating. Brain damaged after a tragic car accident that took both her parents, Gibby is now NQR (Not Quite Right), a real challenge for a fledgling newspaper reporter. Especially when she stumbles upon the dead body of the next governor of Kentucky, Buster Malloy.
Armed with her trusty blue spiral note-book, Gibby figures that solving the murder might be her best chance to prove to everyone that she can become Quite Right again. But she gets more than she bargained for when she uncovers a world of corruption, racism, and family secrets in small town Cray Ridge. Lucky for her, she's also about to discover that some things are far more important than all the brains in the world, and that miracles occur in the most unexpected moments.
About the Author
Lesley Kagen is an actress, voice-over talent, and restaurateur, as well as the author of two previous national bestselling novels. Whistling in the Dark has been translated into five languages and was a Midwest Choice Honor winner. Land of a Hundred Wonders, an Indie Next pick, was also nominated for a Midwest Choice Award. She lives near Milwaukee, Wisconsin.
Praise For Land of a Hundred Wonders…
"A truly enjoyable read from cover to cover...Ms. Kagen's moving portrayal of a unique woman finding her way in a time of change will touch your heart."
--Garth Stein, author of The Art of Racing in the Rain

"I've been a Lesley Kagen fan ever since I read her beautifully rendered debut Whistling in the Dark. Set against the backdrop of the small-town south of the 1970's, Land of a Hundred Wonders, is by turns sensitive and rowdy, peopled with larger-than-life characters who are sure to make their own tender path into your heart."
--Joshilyn Jackson, author of Gods in Alabama and The Girl Who Stopped Swimming

"Lesley Kagen has crafted a story that is poignant, compelling, hilarious, real, and absolutely lovely. Her characters are enchanting and will have you racing to the end of this terrific novel."
--Kris Radish, author of Searching for Paradise in Parker, PA

"Lesley Kagen's lucid, confident prose shines on every page...giving a unique and unforgettable voice to her moving and heartfelt story. The humor and passion of Gibby and her compatriots will stay with you long after you reach the end."
--Tasha Alexander, author of A Fatal Waltz

"With all the charm of Cold Sassy Tree's Will Tweedy, Kagen has created an equally memorable character in Gibby McGraw. Gibby will make you laugh and touch your heart, proving that even someone who's Not Quite Right can still remedy the broken lives of those around her. For everyone who loved Whistling in the Dark, Lesley Kagen has worked her magic again.
--Renee Rosen, author of Every Crooked Pot