Honor in the Dust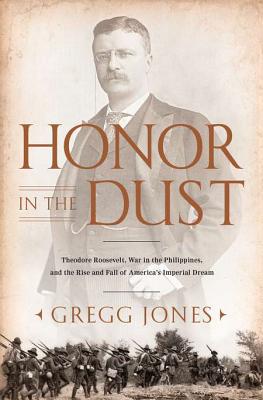 Honor in the Dust
Theodore Roosevelt, War in the Philippines, and the Rise and Fall of America's Imperial Dream
New American Library, Hardcover, 9780451229045, 430pp.
Publication Date: February 7, 2012
* Individual store prices may vary.
Not Currently Available for Direct Purchase
or
Shop Local
Enter your zip code below to purchase from an indie close to you.
Description
On the eve of a new century, an up-and-coming Theodore Roosevelt set out to transform the U.S. into a major world power. The Spanish-American War would forever change America's standing in global affairs, and drive the young nation into its own imperial showdown in the Philippines.
From Admiral George Dewey's legendary naval victory in Manila Bay to the Rough Riders' heroic charge up San Juan Hill, from Roosevelt's rise to the presidency to charges of U.S. military misconduct in the Philippines, "Honor in the Dust" brilliantly captures an era brimming with American optimism and confidence as the nation expanded its influence abroad.
About the Author
Gregg Jones was a finalist for both the Pulitzer Prize and the Gerald Loeb Award. His work has appeared in the" Dallas Morning News", "Los Angeles Times", "Washington Post", "Guardian", and "Observer". He lives in Dallas, Texas.
Praise For Honor in the Dust…
"Honor in the Dust is a dramatic page-turner, told with marvelous reporting, crackling writing, and original insights. Gregg Jones presents a fascinating cast of characters and gripping battle scenes in a story that moves with the speed and power of a battleship. Utterly absorbing." -Jonathan Eig, New York Times best-selling author of Get Capone


"America's brutal war of conquest in the Philippines is amazingly little-known, largely ignored in our schoolbooks and history museums. Yet its imperial hubris and its torture scandal eerily foreshadow events of the last decade. In his much-needed, highly readable book on this forgotten war, Gregg Jones has written both a compelling page-turner and a work of careful scholarship." -Adam Hochschild, National Book Award finalist and author of King Leopold's Ghost


"Gregg Jones has produced a masterful and fast-paced book. Honor in the Dust may be classified as a work of history, but it reads like a thriller. Jones wisely stays focused and does not project events immediately following 1898 into the future, but the reader does. Foreshadowed are the wars in Vietnam, Iraq, Afghanistan-and on. This book is the vital prequel to understanding the state of American empire today." -Dale Maharidge, Pulitzer Prize-winning author of And Their Children After Them 

"Extraordinary… Honor in the Dust is a work of monumental consequence, and its important historical lessons, though they've been frequently unheeded by subsequent administrations, are in any case most worthy of remembrance." —The Christian Science Monitor "A ripping read—facts and context interspersed with the smells and sounds of jungle warfare." —The American Spectator 
"History teaches us how to act, or how to not act as the case may be. Honor in the Dust is both good history and good teaching...Contributes significantly to an ignored and marginalized period of American history...concise and compelling."—Marine Corps Gazette

"Honor in the Dust is an absolutely riveting page-turner, a terrific read. Gregg Jones resurrects a long forgotten, but very important slice of American history, in which the country's imperialistic dreams clashed with its sense of honor and justice, severely testing Theodore Roosevelt's young presidency and forcing Americans to confront the horrors of war. Anyone interested in how America uses and abuses its power during times of war should read this book." -Eric Jay Dolin, author of Fur, Fortune, and Empire and Leviathan

"The Philippines Occupation was the first of the United States' quagmires, yet its lessons have been willfully ignored by later generations. Honor in the Dust recovers this essential history, the bombast of Washington's jingoism to the terror of the lost patrol in Samar. Gregg Jones does an admirable job of bringing this extraordinary period and its remarkable characters to life." -Anne Nelson, author of Savages