The Glorious World Cup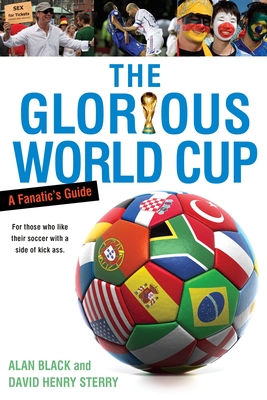 The Glorious World Cup
A Fanatic's Guide
New American Library, Paperback, 9780451230201, 144pp.
Publication Date: May 4, 2010
* Individual store prices may vary.
Buy Now
or
Shop Local
Enter your zip code below to purchase from an indie close to you.
Description
Read Alan Black and David Henry Sterry's posts on the Penguin Blog.
A guide to the biggest sporting event in the world-for those who like their soccer with a side of kick-ass.
The teams, the fans, the goals, the saves, the divas, the divers, the myths, the madness-they're all part of the world-wide spectacle that is soccer's ultimate tournament, and they're all here in this turbo-charged guide. Packed with trivia, tall tales, stats, quizzes, and photos, "The Glorious World Cup" gives readers:
-Famous player profiles
-Villains, heroes, hooligans, and hard men
-On-field glory and off-field indiscretions
-Underdogs, overachievers, maniacs, and miracles
-Commentary from famous fans-including Irvine Welsh, Po Bronson, and Simon Kuper
-A look back at the greatest World Cup finals.
About the Author
Alan Black has been writing novels since 1997 when he started Eye on The Prize. His writing tastes are as eclectic as his reading preferences. Alan admits that he loves writing much more than editing and the whole publishing process. Alan was born in central Kansas and grew up in Gladstone, Missouri. He graduating from Oak Park Senior High School and eventually earning a liberal arts degree from Longview Community college. He spent most of his adult life in the Kansas City area. The exception came at the orders from the U.S. Air Force when he was stationed in Texas, California, Maryland, and Japan. He and his wife were married in the late 70s and moved back to Independence, Missouri, but now live in sunny Arizona. His desire to write started in the second grade. He was given an assignment to write a short story about Greek mythology. His teacher took the time to call his parents and express her appreciation of the story. Although neither of his patents remembered the incident, it had an impact on him, eventually leading him to write Eye On The Prize, taking two years to complete. He has gotten faster since then completing a recent manuscript in three weeks. Alan Black is a #1 bestselling author for Metal Boxes, a young adult, science fiction, military, action adventure. He has published ten novels to date. He is an indie multi-genre writer who has never met a good story he didn't want to tell. Alan Black's vision statement: "I want my readers amazed they missed sleep because they could not put down one of my books. I want my readers amazed I made them laugh on one page and cry on the next. I want to give my readers a pleasurable respite from the cares of the world for a few hours. I want to offer stories I would want to read."

David Henry Sterry is the coeditor of "Hos, Hookers, Call Girls, and Rent Boys" (front page review, "The New York Times Book Review") and author of "Master of Ceremonies", "Chicken", "Satchel Sez", and the forthcoming "The Glorious World Cup". He is also an actor, media coach, book doctor, and activist for at-risk youth. The authors are married and live in Montclair, New Jersey, with their daughter.