Cowboys Never Cry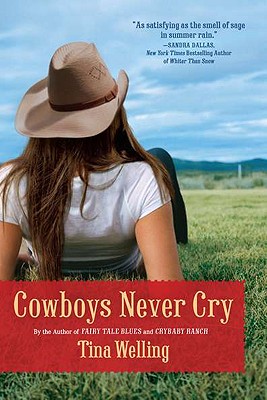 Cowboys Never Cry
New American Library, Paperback, 9780451231215, 357pp.
Publication Date: October 5, 2010
* Individual store prices may vary.
Buy at Local Store
Enter your zip code below to purchase from an indie close to you.
or
Buy Here
Description
Cowboys are NOT her weakness-until she meets the right one-in this funny, wise, romantic novel about women and cowboys, both real and imagined.
Cassie Danner doesn't swoon over cowboys. A young widow with a still- mending heart, she seeks solace in her new summer job as cook on a Wyoming dude ranch. How ironic that she ends up tussling with Robbin McKeag, the ranch owner's son and a superstar celebrity for having played iconic cowboys on the big screen.
Disillusioned with fame, Robbin has retreated to his dad's ranch to reconnect with the land. But there's something about Cassie that gets his goat. And Cassie can't help but be drawn to Robbin as he struggles to become a better man. Are they about to play out a classic romance, or will the cowboy mystique and charm wear off?
Praise For Cowboys Never Cry…
"You'll love Cassie Danner, a cowgirl with an environmental bent, as she struggles to overcome an old love and embrace a new one. Cowboys Never Cry is as satisfying as the smell of sage in summer rain."
-Sandra Dallas, New York Times bestselling author of Prayers for Sale and Whiter Than Snow

"Tina Welling's newest novel, Cowboys Never Cry, is a lively romantic romp that blends the landscape of the heart and the fragile West where real cowboys and cowgirls really do ride off into the sunset."
-Kris Radish, author of Hearts on a String

"Tina Welling has done it again. Cowboys Never Cry is a big-hearted romp set against the gorgeous landscapes of the American West. Cassie Danner is a tough, generous, grieving protagonist. She also has a sense of humor as grand as the Tetons. This novel is a heady gallop through the tangled thickets of love."
-Alyson Hagy, author of Ghosts of Wyoming

"Tina Welling is a wonderfully fresh voice in women's fiction. Cowboys Never Cry will keep you up all night reading--and rooting for wounded characters who heal each other through the power of love."
-New York Times bestselling author Joan Johnston

"Tina Welling has a sharp eye for the west and an ear to match it. Pick up the book and join her charming characters for a romance-filled ride through Wyoming's spectacular backcountry."
-Jana Richman, author of The Last Cowgirl

"Cassie's struggle to overcome the loss of her husband through hard work in a fiercely beautiful and sometimes dangerous landscape makes her a particularly powerful heroine. Her independence is itself an act of defiance against grief. While examining the intricacies of emotional wounds, Tina Welling also miraculously manages to capture the awesome beauty of Wyoming. If you care about the monumental strength of the tender-hearted, you'll love this story."
-Kathleen O'Neal Gear and W. Michael Gear, New York Times bestselling authors of People of the Thunder

"A charming, western romance sure to please readers."
-Jo-Ann Mapson, author of The Owl & Moon CafT and Solomon's Oak

"Welling delivers a winning combination--the cowboy who isn't easy to love and the modern woman who sees through all his pretenses. A novel about a contemporary courtship that is as fresh as today's headlines and as classic as the old West."
-USA Today bestselling author Kathleen Eagle