The Secret History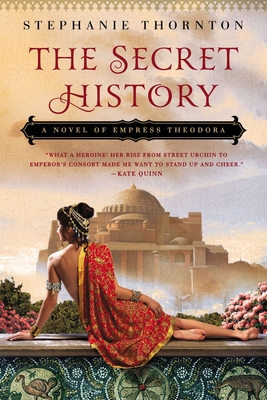 The Secret History
A Novel of Empress Theodora
New American Library, Paperback, 9780451417787, 440pp.
Publication Date: July 2, 2013
* Individual store prices may vary.
Buy at Local Store
Enter your zip code below to purchase from an indie close to you.
or
Not Currently Available for Direct Purchase
Description
Where Theodora went, trouble followed....
In sixth-century Constantinople, one woman, Theodora, defied every convention and all the odds and rose from common theater tart to empress of a great kingdom, the most powerful woman the Roman Empire would ever know. The woman whose image was later immortalized in glittering mosaic was a scrappy, clever, conniving, flesh-and-blood woman full of sensuality and spirit whose real story is as surprising as any ever told....
After her father dies suddenly, Theodora and her sisters face starvation and a life on the streets. Determined to survive, Theodora makes a living any way she can--first on her back with every man who will have her, then on the stage in a scandalous dramatization of her own invention. When her daring performance grants her a backdoor entry into the halls of power, she seizes the chance to win a wealthy protector--only to face heartbreak and betrayal.
Ever resilient, Theodora rises above such trials and, by a twist of fate, meets her most passionate admirer yet: the emperor's nephew. She thrives as his confidant and courtesan, but many challenges lie ahead. For one day this man will hand her a crown. And all the empire will wonder--is she bold enough, shrewd enough, and strong enough to keep it?
READERS GUIDE INCLUDED.
About the Author
Stephanie Thornton is a writer and history teacher who has been obsessed with infamous women from ancient history since she was twelve. She lives with her husband and daughter in Alaska, where she is at work on her next novel.
Praise For The Secret History…
"Stephanie Thornton's Theodora is tough and intelligent, spitting defiance against the cruel world of the Byzantine Empire. Her rise from street urchin to emperor's consort made me want to stand up and cheer. Her later years as empress are great fun to read, but it was her early struggle as actress and courtesan that really had me roaring: either with rage at the misfortunes heaped on this poor girl, or with delight as she once more picked herself up with a steely glint in her eye and kept on going."—Kate Quinn, author of Empress of the Seven Hills

"Loss, ambition and lust keep this rich story moving at top speed. Stephanie Thornton writes a remarkable first novel that brings a little known woman to full, vibrant life...A sprawling and irresistible story."—Jeane Westin, author of The Spymaster's Daughter