The Shadow Throne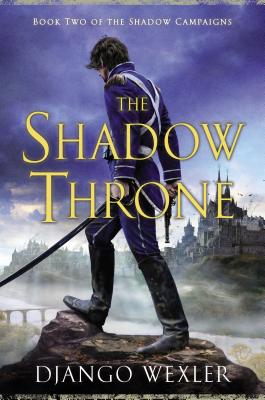 The Shadow Throne
Roc, Hardcover, 9780451418067, 500pp.
Publication Date: July 1, 2014
* Individual store prices may vary.
Buy at Local Store
Enter your zip code below to purchase from an indie close to you.
or
Buy Here
Description
Anyone can plot a coup or fire an assassin's bullet. But in a world of muskets and magic, it takes considerably more to seize the throne.
The ailing King of the Vordan lies on his deathbed. When he dies, his daughter, Raesinia Orboan, will become the first Queen Regnant in centuries--and a ripe target for the ambitious men who seek to control her. The most dangerous of these is Duke Orlanko, Minister of Information and master of the secret police. Having meticulously silenced his adversaries through intimidation, imprisonment, and execution, Orlanko is the most feared man in the kingdom.
And he knows an arcane secret that puts Raesinia completely at his mercy.
Exposure would mean ruin, but Raesinia is determined to find a way to break herself--and her country--out of Orlanko's iron grip. She finds unlikely allies in the returning war hero Janus bet Vhalnich, fresh from a brilliant campaign in the colony of Khandar, and his loyal deputies, Captain Marcus d'Ivoire and Lieutenant Winter Ihernglass.
As Marcus and Winter struggle to find their places in the home they never thought they would see again, they help Janus and Raesinia set in motion events that could free Vordan from Orlanko's influence--at the price of throwing the nation into chaos. But with the people suffering under the Duke's tyranny, they intend to protect the kingdom with every power they can command, earthly or otherwise.

About the Author
Django Wexler graduated from Carnegie Mellon University in Pittsburgh with degrees in creative writing and computer science, and worked for the university in artificial intelligence research. When not planning Shadow Campaigns, including The Thousand Names, he wrangles computers, paints tiny soldiers, and plays games of all sorts. He is also the author of a middle-grade novel, The Forbidden Library.
Praise For The Shadow Throne…
Praise for The Thousand Names
 
"Wexler has produced something unusual in the fantasy line, with a setting reminiscent of the early Victorian period, out on the bleeding edge of Empire, a world of dust and bayonets and muskets...and magic. The characters are fascinating and all of them have secrets. The heroes range from the noble to the distinctly ambiguous....I read it at a gulp and look forward to more."—S. M. Stirling, New York Times Bestselling Author of The Golden Princess

"I absolutely loved it. Wexler balances the actions of his very human characters with just the right amount of imaginative 'magic' to keep me wanting more."—Taylor Anderson, National Bestselling Author of the Destroyermen Series
 
"The Thousand Names shall from now on be considered the standard set for all new flintlock fantasy....Fans of Steven Erikson, David Drake, Glen Cook, Naomi Novik, Tom Kratman, Jack Campbell, David Weber, and John Ringo take note—there's a new military fiction cowboy in town and his name is Django."—SF Signal