A Fall of Marigolds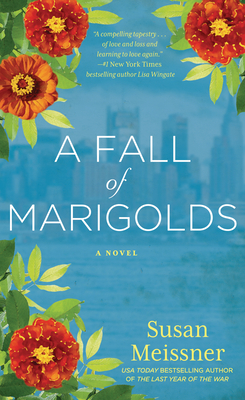 A Fall of Marigolds
New American Library, Paperback, 9780451419910, 370pp.
Publication Date: February 4, 2014
* Individual store prices may vary.
Buy at Local Store
Enter your zip code below to purchase from an indie close to you.
or
Buy Here
Description
A beautiful scarf, passed down through the generations, connects two women who learn that the weight of the world is made bearable by the love we give away....
September 1911. On Ellis Island in New York Harbor, nurse Clara Wood cannot face returning to Manhattan, where the man she loved fell to his death in the Triangle Shirtwaist Fire. Then, while caring for a fevered immigrant whose own loss mirrors hers, she becomes intrigued by a name embroidered onto the scarf he carries...and finds herself caught in a dilemma that compels her to confront the truth about the assumptions she's made. Will what she learns devastate her or free her?
September 2011. On Manhattan's Upper West Side, widow Taryn Michaels has convinced herself that she is living fully, working in a charming specialty fabric store and raising her daughter alone. Then a long-lost photograph appears in a national magazine, and she is forced to relive the terrible day her husband died in the collapse of the World Trade Towers...the same day a stranger reached out and saved her. Will a chance reconnection and a century-old scarf open Taryn's eyes to the larger forces at work in her life?
About the Author
Susan Meissner is a multi-published author, speaker, and writing workshop leader with a background in community journalism. Her novels include The Shape of Mercy, named by Publishers Weekly as one of the 100 Best Novels of 2008 and a Carol Award winner. She is a pastor's wife and the mother of four young adults. When she's not writing, Susan writes small group curriculum for her San Diego church. Visit Susan at her website: www.susanmeissner.com, on Twitter at @SusanMeissner, or at www.facebook.com/susan.meissner.
Praise For A Fall of Marigolds…
"Like the golden threads of a scarf sprinkled with marigolds, Susan Meissner weaves two unspeakable New York tragedies—the Triangle Shirtwaist Fire and 9/11—into a shimmering novel of love and acceptance. Meissner's heroines, Clara and Taryn, live a century apart, but their stories are connected not just by a bright scrap of fabric but by love lost.  A compelling novel, A Fall of Marigolds turns fate into a triumph of spirit."—Sandra Dallas, New York Times bestselling author of True Sisters 

"Meissner has crafted a thoughtful story about lost loves and times past, illustrating how quickly disaster can take away what we hold most dear, and how ultimately we must move forward with hope in our hearts."—Margaret Dilloway, bestselling author of The Care and Handling of Roses With Thorns

"A transportive, heartwarming, and fascinating novel that will resonate with readers in search of emotionally satisfying stories connecting past and present, and demonstrating the healing power of love."—Erika Robuck, bestselling author of Call Me Zelda

"Weaves a compelling tapestry of past and present, of love and loss and learning to love again, of two women connected through time in a rich and unique way."—Lisa Wingate, bestselling author of The Prayer Box and Tending Roses

"Susan Meissner knits the past and the present with the seamless skill of a master storyteller. A beautifully written, moving novel that had me gripped from the first page."—Kate Kerrigan, New York Times bestselling author of Ellis Island

"Deftly weaves a story of love and loss... an inspiring story of hope and the belief that with tomorrow comes a new day full of promise."—Lorie Conway, author/producer of "Forgotten Ellis Island"

"Susan Meissner has written a courageous novel, moving with great insight between the haunting parallel stories of two women trying to recover from the losses of a terrible fire in 1911 New York City and the unforgettable fall of the twin towers on 9/11. An uncommon celebration of the human spirit in the face of unspeakable tragedy, A Fall of Marigolds is a beautiful reminder that although life is perilous, love is a powerful healer."—Kimberly Brock, 2013 Georgia Author of the Year and author of The River Witch