Dark Currents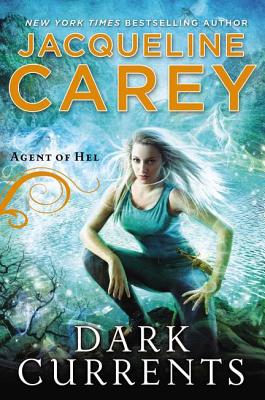 Dark Currents
Agent of Hel
Roc, Hardcover, 9780451464781, 356pp.
Publication Date: October 2, 2012
* Individual store prices may vary.
Buy at Local Store
Enter your zip code below to purchase from an indie close to you.
or
Not Currently Available for Direct Purchase
Description
Jacqueline Carey, "New York Times "bestselling author of the acclaimed Kushiel's Legacy novels, presents an all-new world featuring a woman caught between the normal and paranormal worlds, while enforcing order in both. Introducing Daisy Johanssen, reluctant hell-spawn
The Midwestern resort town of Pemkowet boasts a diverse population: eccentric locals, wealthy summer people, and tourists by the busload; not to mention fairies, sprites, vampires, naiads, ogres and a whole host of eldritch folk, presided over by Hel, a reclusive Norse goddess.
To Daisy Johanssen, fathered by an incubus and raised by a single mother, it's home. And as Hel's enforcer and the designated liaison to the Pemkowet Police Department, it's up to her to ensure relations between the mundane and eldritch communities run smoothly.
But when a young man from a nearby college drowns and signs point to eldritch involvement the town's booming paranormal tourism trade is at stake. Teamed up with her childhood crush, Officer Cody Fairfax, a sexy werewolf on the down-low, Daisy must solve the crime and keep a tight rein on the darker side of her nature. For if she's ever tempted to invoke her demonic birthright, it could accidentally unleash nothing less than Armageddon.
About the Author
Jacqueline Carey is the author of the bestselling Kushiel trilogy ("Kushiel s Dart", Kushiel s Chosen, and "Kushiel s Avatar") and her epic fantasy duology, The Sundering ("Banewreaker" and "Godslayer"). She has won the "Locus" Award for Best First Novel and the "Romantic Times" Reviewers' Choice Award for Best Fantasy Novel. Her books have been listed on many booksellers top ten fantasy books lists. Always an avid reader, Carey began writing fiction as a hobby in high school. After graduating from Lake Forest College, she worked for six months at a bookstore in London, and returned to the United States with a driving passion to write professionally. She resides in western Michigan.
Praise For Dark Currents…
Praise for Jacqueline Carey

"A writer to watch—as the cliché goes—but more important, a writer to read."--Storm Constatine
"[Jacqueline Carey] has a flair for character development and intricate plotting and world-building that recalls [George R.R.] Martin's."--SF Reviews
"Carey's storytelling ability is top-notch."--Publishers Weekly