When Will the Heaven Begin?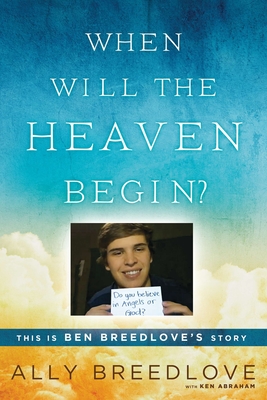 When Will the Heaven Begin?
This Is Ben Breedlove's Story
New American Library, Paperback, 9780451468154, 320pp.
Publication Date: October 29, 2013
* Individual store prices may vary.
Buy at Local Store
Enter your zip code below to purchase from an indie close to you.
or
Buy Here
Description
An inspirational and heartrending memoir about Ben Breedlove, whose videos about his near-death experiences and visions of heaven went viral in 2012, written by his sister, Ally Breedlove.
On Christmas Day 2011, Ben Breedlove's soul went to heaven. But it wasn't his first time there. Ben suffered from hypertrophic cardiomyopathy (HCM), a heart condition that posed a constant risk of sudden death. His condition, a thickening of the heart muscle, worsened over time, leaving him weak and fatigued. It also led Ben to some close calls medically, in particular cardiac arrest on four separate occasions, during which he felt the presence of angels and experienced the perfect peace of heaven.
Precocious and warm, Ben was close with his family and two siblings, and forged deep relationships with his friends. He loved to wakeboard and wakesurf, and he had dreams of visiting foreign countries around the world. He created the YouTube channels TotalRandomness512 and BreedloveTV, and cocreated the channel OurAdvice4You, where he posted videos about everything from dating advice for girls to more serious topics like his spirituality and heart condition.
Unbeknownst to his parents and family, Ben created a two-part video called "This Is My Story," in which he used flash cards to tell the world about his near-death experiences and his beckoning toward heaven.
When he died a short while later at the tender age of eighteen, his family and the rest of the world stumbled upon these videos. The world responded with overwhelming acceptance of the message Ben shared.
Ben's vision of heaven was his gift to his family, and to the world. And now this is the Breedlove family's gift to us--an in-depth look at the life and near-deaths of Ben, the strength and faith of a family, and, ultimately, the hope of heaven.
"Do you believe in Angels or God? I Do.--Ben Breedlove
About the Author


Ken Abrahamis aNew York Timesbest-selling author known around the world for his collaborations with high-profile public figures. A former professional musician and pastor, he is a popular guest with both secular and religious media. His books includeOne Soldier's Storywith Bob Dole, Payne Stewartwith Tracey Stewart, Falling in Love for All the Right Reasonswith Dr. Neil Clark Warren, andLet's Roll!with Lisa Beamer.
Praise For When Will the Heaven Begin?…
"Reading these pages you'll discover how one precious young man treated life as a gift from God and thus became a gift from God. Just as his many videos and devotion to family and friends touched many hearts, I pray that this book will, too." —Don Piper, New York Times bestselling author of 90 Minutes in Heaven: A True Story of Death and Life

"When Will the Heaven Begin? shares Ben Breedlove's profound message of hope and peace with the world. Ally Breedlove has done a remarkable job in this beautifully simplistic, heartfelt narrative that will endear every reader to Ben, while reminding us to live every day with joy."—Elizabeth Bryan, coauthor of Chicken Soup for the Soul: Count Your Blessings

 "Ben Breedlove's story affected me deeply from the moment I first heard it. We are all lucky that Ally Breedlove shared Ben's incredible experiences and discovery with the world in When Will the Heaven Begin? Ben's life was filled with struggles that no person or family would ever wish for, but what he ultimately came to realize was that every life, and everything in your life, truly matters and has a purpose. His unshakable belief in God and the perfect peace that is waiting for all of us in heaven will provide hope and inspiration to millions."—Glenn Beck

"Ever since Ben came into my life I have been on a new journey. He saved me. Not drugs, not liquor, Ben. I think it's safe to say that he single-handedly reignited the spark in me to keep going and to keep creating. I do believe that he was sent here on a mission from God."—Scott Mescudi (a.k.a. Kid Cudi)