The Island of Dr. Moreau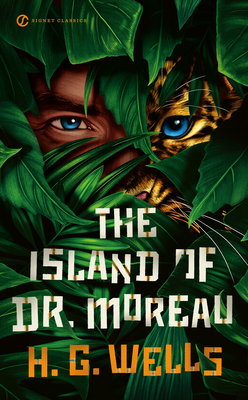 The Island of Dr. Moreau
Signet Classics, Mass Market Paperbound, 9780451468666, 189pp.
Publication Date: June 3, 2014
* Individual store prices may vary.
Buy Now
or
Shop Local
Enter your zip code below to purchase from an indie close to you.
Description
"A lonely island in the Pacific. The sinister scientist who rules it. And the strange beings who dwell there "
This is the scenario for H. G. Wells's haunting classic, one of his most intriguing and visionary novels. Living in the late nineteenth century and facing the impact of Darwin's theory of evolution, Wells wrote this chilling masterpiece about the characteristics of beasts blurring as the animals turn into men. Dr. Moreau, a scientist expelled from his homeland for his cruel vivisection experiments, finds a deserted island that gives him the freedom to continue torturous transplantations and create hideous creatures with manlike intelligence. But as the brutally enforced order on Moreau's island dissolves, the true consequences of his experiments emerge, and his creations revert to beasts more shocking than nature could devise.
A genius of his time, H. G. Wells foresaw the use of what he called the atom bomb, the practice of gene-splicing, and men landing on the moon. Now, when these have become part of everyday life, his dark fable serves as a compelling reminder of the horrors that reckless experiments with nature can produce.
With a New Introductionby Nita A. Farahanyand an Afterword by Dr. John L. Flynn.
About the Author
Often called the father of science fiction, British author Herbert George (H. G.) Wells literary works are notable for being some of the first titles of the science fiction genre, and include such famed titles as The Time Machine, The War of the Worlds, The Island of Doctor Moreau, and The Invisible Man. Despite being fixedly associated with science fiction, Wells wrote extensively in other genres and on many subjects, including history, society and politics, and was heavily influenced by Darwinism. His first book, Anticipations of the Reaction of Mechanical and Scientific Progress Upon Human Life and Thought, offered predictions about what technology and society would look like in the year 2000, many of which have proven accurate. Wells went on to pen over fifty novels, numerous non-fiction books, and dozens of short stories. His legacy has had an overwhelming influence on science fiction, popular culture, and even on technological and scientific innovation. Wells died in 1946 at the age of 79.



Nita Farahany is assistant professor of law at Vanderbilt University Law School. Her teaching and research areas of expertise are law and biology (behavioral genetics, genetics, neuroscience, psychiatry), and law and philosophy (wrongfulness, responsibility and punishment theory).