Frankenstein, Dracula, Dr. Jekyll and Mr. Hyde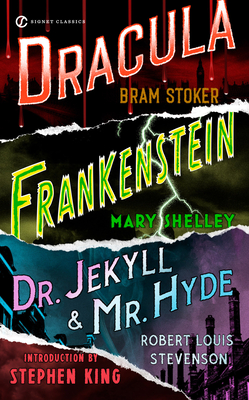 Frankenstein, Dracula, Dr. Jekyll and Mr. Hyde
Signet Book, Mass Market Paperbound, 9780451523631, 736pp.
Publication Date: December 1, 1978
* Individual store prices may vary.
Buy at Local Store
Enter your zip code below to purchase from an indie close to you.
or
Buy Here
Description
Three horror icons come together in one indispensable tome with an introduction by Stephen King.
" Within the pages of this volume you will come upon three of the darkest creations of English nineteenth-century literature; three of the darkest in all of English and American literature, many would say and not without justification These three creatures, presented together for the first time, all have a great deal in common beyond their power to go on frightening generation after generation of readers but that fact alone should be considered before all others. " From the Introduction by Stephen King
A scientist oversteps the bounds of conscience and brings to life a tortured creation. A young adventurer succumbs to the night world of a diabolic count. A man of medicine explores his darker side only to fall prey to it. They are legendary tales that have held readers spellbound for more than a century. The titles alone "Frankenstein," "Dracula," and "Dr. Jekyll and Mr. Hyde" have become part of a universal language that serves to put a monster's face on the good-and-evil duality of our very human nature. And the authors Mary Shelley, Bram Stoker, and Robert Louis Stevenson equally as mythic, are still possessed of an inventive and subversive power that can shake a reader to this day with something far more profound than fear. They gave root to the modern horror novel, and like the creatures they invented, they ve achieved immortality.
About the Author


Robert Louis (Balfour) Stevenson was a prolific Scottish poet and novelist in the 19th century. He was admired by many other authors, and his work includes The Black Arrow, Kidnapped, and The Strange Case of Dr. Jekyll and Mr. Hyde. He died in 1894.


Abraham (Bram) Stoker was an Irish writer, best known for his Gothic classic Dracula, which continues to influence horror writers and fans more than 100 years after it was first published. Educated at Trinity College, Dublin, in science, mathematics, oratory, history, and composition, Stoker' s writing was greatly influenced by his father' s interest in theatre and his mother' s gruesome stories about her childhood during the cholera epidemic in 1832. Although a published author of the novels Dracula, The Lady of the Shroud, and The Lair of the White Worm, and his work as part of the literary staff of The London Daily Telegraph, Stoker made his living as the personal assistant of actor Henry Irving and the business manager of the Lyceum Theatre in London. Stoker died in 1912, leaving behind one of the most memorable horror characters ever created.