The Origin of Species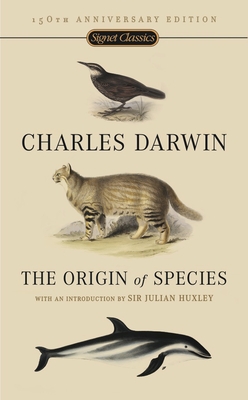 The Origin of Species
150th Anniversary Edition
Signet Book, Mass Market Paperbound, 9780451529060, 576pp.
Publication Date: September 2, 2003
* Individual store prices may vary.
Buy at Local Store
Enter your zip code below to purchase from an indie close to you.
or
Buy Here
Description
The classic that exploded into public controversy, revolutionized the course of science, and continues to transform our views of the world.
About the Author
CHARLES ROBERT DARWIN was born in 1809 in Shrewsbury, England, to a wealthy intellectual family, his grandfather being the famous physician Erasmus Darwin. At Cambridge University he formed a friendship with J. S. Henslow, a professor of botany, and that association, along with his enthusiasm for collecting beetles, led to "a burning zeal," as he wrote in his Autobiography, for the natural sciences. When Henslow obtained for him the post of naturalist on H.M.S. Beagle, the course of his life was fixed. The five-year-long voyage to the Southern Hemisphere between 1831 and 1836 would lay the foundation for his ideas about evolution and natural selection. Upon his return Darwin lived in London before retiring to his residence at Down, a secluded village in Kent. For the next forty years he conducted his research there and wrote the works that would change human understanding forever. Knowing of the resistance from the orthodox scientific and religious communities, Darwin published The Origin of Species in 1859 only when another naturalist, Alfred Russel Wallace, independently reached the same conclusions. His other works include The Descent of Man, and Selection in Relation to Sex (1871) and Recollections of My Mind and Character, also titled Autobiography (1887). Charles Darwin's Diary of the Voyage of the H.M.S. Beagle was published posthumously in 1933. Darwin died in 1882; he is buried in Westminster Abbey.