Crime and Punishment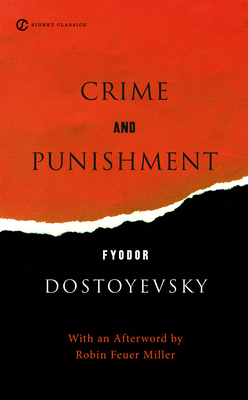 Crime and Punishment
Signet Classics, Mass Market Paperbound, 9780451530066, 536pp.
Publication Date: March 2006
* Individual store prices may vary.
Shop Local
Enter your zip code below to find indies closest to you.
Description
Dostoyevsky's epic masterpiece, unabridged, with an afterword by Robin Feuer Miller
One of the world's greatest novels, "Crime and Punishment" is the story of a murder and its consequences an unparalleled tale of suspense set in the midst of nineteenth-century Russia's troubled transition to the modern age.
In the slums of czarist St. Petersburg lives young Raskolnikov, a sensitive, intellectual student. The poverty he has always known drives him to believe that he is exempt from moral law. But when he puts this belief to the test, he suffers unbearably. Crime and punishment, the novel reminds us, grow from the same seed.
No other novelist, wrote Irving Howe of Dostoyevsky, has dramatized so powerfully the values and dangers, the uses and corruptions of systematized thought. And Friedrich Nietzsche called him the only psychologist I have anything to learn from.
With an Introduction by Leonard J. Stanton and James D. Hardy Jr.
and an Afterword by Robin Feuer Miller

About the Author
Fyodor Dostoyevsky was a Russian novelist, short story writer and essayist whose literary works explored human psychology in the troubled political, social, and spiritual context of nineteenth-century Russia. A student of the the Nikolayev Military Engineering Institute, Dostoyevsky initially worked as an engineer, but began translating books to earn extra money. The publication of his first novel, Poor Folk, allowed him to join St. Petersburg s literary circles. A prolific writer, Dostoyevsky is best known for work from the latter part of his career, including the classic novels Crime and Punishment, The Idiot and The Brothers Karamazov. Dostoyevsky s influence extends to authors as diverse as Anton Chekhov, James Joyce, Ernest Hemingway, and Jean-Paul Sartre, among many others. He died in 1881.

Sidney Monas is Professor Emeritus of Slavic Languages and History at the University of Texas at Austin.