The Innocents Abroad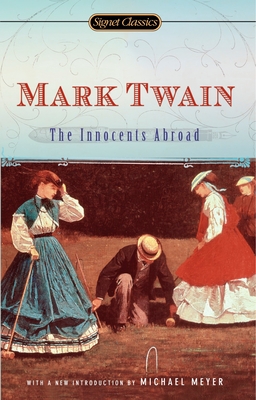 The Innocents Abroad
Signet Classics, Mass Market Paperbound, 9780451530493, 532pp.
Publication Date: April 3, 2007
* Individual store prices may vary.
Buy at Local Store
Enter your zip code below to purchase from an indie close to you.
or
Buy Here
Description
One of the most famous travel books ever written by an American, "The Innocents Abroad "is Mark Twain's irreverent and incisive commentary on nineteenth century Americans encountering the Old World. Come along for the ride as Twain and his unsuspecting travel companions visit the Azores, Tangiers, Paris, Rome, the Vatican, Genoa, Gibraltar, Odessa, Constantinople, Cairo, the Holy Land and other locales renowned in history. No person or place is safe from Twain's sharp wit as it impales both the conservative and the liberal, the Old World and the New. He uses these contrasts to find out who we as Americans are, notes Leslie A. Fiedler. But his travelogue demonstrates that, in our attempt to understand ourselves, we must first find out what we are "not."
With an Introduction Michael Meyer and an Afterword by Leslie A. Fiedler.
About the Author
Mark Twain, born Samuel Langhorne Clemens, was an American humorist and writer, who is best known for his enduring novels The Adventures of Tom Sawyer and Adventures of Huckleberry Finn, which has been called the Great American Novel. Raised in Hannibal, Missouri, Twain held a variety of jobs including typesetter, riverboat pilot, and miner before achieving nationwide attention for his work as a journalist with The Celebrated Jumping Frog of Calaveras County. He earned critical and popular praise for his wit and enjoyed a successful career as a public speaker in addition to his writing. Twain s works were remarkable for his ability to capture colloquial speech, although his adherence to the vernacular of the time has resulted in the suppression of his works by schools in modern times. Twain s birth in 1835 coincided with a visit by Halley s Comet, and Twain predicted, accurately, that he would go out with it as well, dying the day following the comet s return in 1910.



Michael Meyer first went to China in 1995 with the Peace Corps. A Lowell Thomas Award winner for travel writing, Meyer has published stories in "Time," "Smithsonian," the "New York Times Book Review," the "Financial Times," "Reader's Digest," the "Los Angeles Times," and the "Chicago Tribune," In China, he has represented the National Geographic Society's Center for Sustainable Destinations, training China's UNESCO World Heritage Site managers in preservation practices. "The Last Days of Old Beijing" is his first book.