The War of the Worlds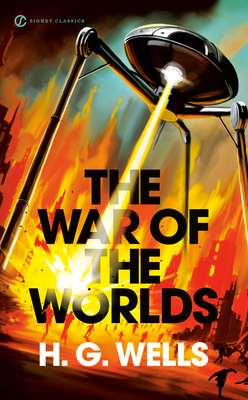 The War of the Worlds
Signet Classics, Mass Market Paperbound, 9780451530653, 208pp.
Publication Date: September 4, 2007
* Individual store prices may vary.
Buy Now
or
Shop Local
Enter your zip code below to purchase from an indie close to you.
Description
The ultimate science fiction classic
For more than one hundred years this compelling tale of the Martian invasion of Earth has enthralled readers with a combination of imagination and incisive commentary on the imbalance of power that continues to be relevant today.
About the Author
Often called the father of science fiction, British author Herbert George (H. G.) Wells literary works are notable for being some of the first titles of the science fiction genre, and include such famed titles as The Time Machine, The War of the Worlds, The Island of Doctor Moreau, and The Invisible Man. Despite being fixedly associated with science fiction, Wells wrote extensively in other genres and on many subjects, including history, society and politics, and was heavily influenced by Darwinism. His first book, Anticipations of the Reaction of Mechanical and Scientific Progress Upon Human Life and Thought, offered predictions about what technology and society would look like in the year 2000, many of which have proven accurate. Wells went on to pen over fifty novels, numerous non-fiction books, and dozens of short stories. His legacy has had an overwhelming influence on science fiction, popular culture, and even on technological and scientific innovation. Wells died in 1946 at the age of 79.

To list Isaac Asimov's honors, as to list his books, would be excessive. Let it simply be noted that Isaac Asimov was the most famous, most honored, most widely read, and most beloved science fiction author of all time. In his five decades as an author, he wrote more than four hundred books, won every award his readers and colleagues could contrive to give him, and provided pleasure and insight to millions. He died in 1992, still at work.

Karl Kroeber is Mellon Professor in the Humanities at Columbia University. His previous publications include "Ishi in Three Centuries" (ed. 2003), "Artistry in American Indian Myths" (1998), and "Ecological Literary Criticism" (1994). He is Editor Emeritus of "Studies in American Indian Literature,"