Stranger at the Gate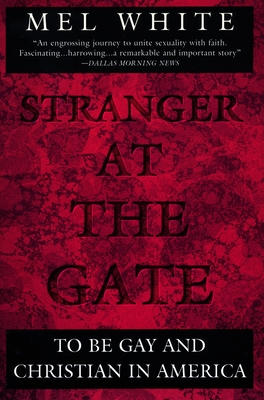 Stranger at the Gate
To Be Gay and Christian in America
Plume Books, Paperback, 9780452273818, 368pp.
Publication Date: April 1995
* Individual store prices may vary.
Buy Now
or
Shop Local
Enter your zip code below to purchase from an indie close to you.
Description
Until Christmans Eve 1991, Mel White was regarded by the leaders of the religious right as one of their most talented and productive supporters. He penned the speeches of Ollie North. He was a ghostwriter for Jerry Falwell, worked with Jim Bakker, flew in Pat Robertson's private jet, walked sandy beaches with Billy Graham. What these men didn't know was that Mel Whiteevangelical minister, committed Christian, family manwas gay.
In this remarkable book, Mel White details his twenty-five years of being counseled, exorcised, electric-shocked, prayed for, and nearly driven to suicide because his church said homosexuality was wrong. But his salvationto be openly gay and Christianis more than a unique coming-out story. It is a chilling expose that goes right into the secret meetings and hidden agendas of the religious right. Told by an eyewitness and sure to anger those Mel White once knew best, Stranger at the Gate is a warning about where the politics of hate may lead America a brave book by a good man whose words can make us richer in spirit and much wiser too.
About the Author
Contributing editor for "National Geographic Traveler" and "Living Bird" magazines, author Mel White specializes in nature and travel writing. In addition to winning the 2002 Lowell Thomas Award for best environmental journalism article, he authored the "National Geographic Guide to Birdwatching Sites" and "A Birder's Guide to Arkansas, "among other titles.

Praise For Stranger at the Gate…
"An engrossing journey to unite sexuality with faith. Fascinating harrowing a remarkable and important story"
Dallas Morning News

"A courageous and important book a clarion call for justice and freedom."
Malcolm Boyd, Episcopal priest, author of Take Off the Mask

"[Mel White is] perhaps the finest writer I know a man of integrity and fairness."
Jerry Falwell, to Daniel Cattau of the Dallas Morning News

"Compelling eloquent and compassionate We learn as much about growing up in the Christian right as we do about gay life in Mel White's heartfelt and revealing memoir."
San Francisco