Nineteen Eighty-Four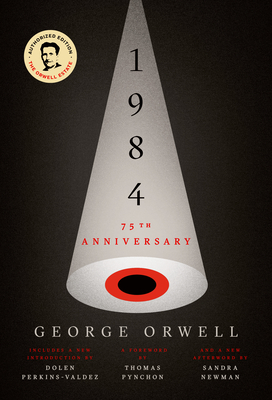 Nineteen Eighty-Four
Plume Books, Paperback, 9780452284234, 368pp.
Publication Date: May 6, 2003
* Individual store prices may vary.
Buy at Local Store
Enter your zip code below to purchase from an indie close to you.
or
Buy Here
Description
With a foreword by Thomas Pynchon
A masterpiece of rebellion and imprisonment, where war is peace, freedom is slavery, and Big Brother is watching...
View our feature on George Orwell's "1984."
Thought Police. Big Brother. Orwellian. These words have entered our vocabulary because of George Orwell's classic dystopian novel, "1984." The story of one man's nightmare odyssey as he pursues a forbidden love affair through a world ruled by warring states and a power structure that controls not only information but also individual thought and memory, 1984 is a prophetic, haunting tale.
More relevant than ever before, "1984" exposes the worst crimes imaginable the destruction of truth, freedom, and individuality.
This beautiful paperback edition features deckled edges and french flaps -- a perfect gift for any occasion.
About the Author
ERIC ARTHUR BLAIR (19031950), better known by his pen name George Orwell, was an English author and journalist whose best-known works include the dystopian novel 1984 and the satirical novella Animal Farm. He is consistently ranked among the best English writers of the 20th century, and his writing has had a huge, lasting influence on contemporary culture. Several of his coined words have since entered the English language, and the word "Orwellian" is now used to describe totalitarian or authoritarian social practices.

Thomas Pynchon was born in 1937. His books include The Crying of Lot 49, Gravity's Rainbow, Vineland, and Mason & Dixon.

Erich Fromm (1900-1980) emigrated from Germany in 1934 to the United States, where he held a private psychotherapeutic practice and taught at Columbia, Yale, and New York University. His many books include The Art of Loving, Escape from Freedom, Man for Himself, and The Anatomy of Human Destructiveness.
Thursday, Jul 15, 2010
George Orwell's dystopian vision offers such devastating political commentary that it's rarely described as a suspense novel. But author and former CIA operative Barry Eisler says the book simply proves just how powerful a thriller with a message can be. More at NPR.org