Atlas Shrugged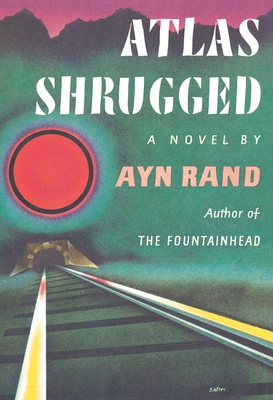 Atlas Shrugged
(Centennial Edition)
Berkley Books, Paperback, 9780452286368, 1192pp.
Publication Date: December 1, 2004
* Individual store prices may vary.
Buy at Local Store
Enter your zip code below to purchase from an indie close to you.
or
Buy Here
Description
This is the story of a man who said that he would stop the motor of the world--and did. Was he a destroyer or the greatest of liberators? Why did he have to fight his battle, not against his enemies, but against those who needed him most, and his hardest battle against the woman he loved? What is the world's motor--and the motive power of every man? You will know the answer to these questions when you discover the reason behind the baffling events that play havoc with the lives of the characters in this story.
Tremendous in its scope, this novel presents an astounding panorama of human life--from the productive genius who becomes a worthless playboy--to the great steel industrialist who does not know that he is working for his own destruction--to the philosopher who becomes a pirate--to the composer who gives up his career on the night of his triumph--to the woman who runs a transcontinental railroad--to the lowest track worker in her Terminal tunnels.
You must be prepared, when you read this novel, to check every premise at the root of your convictions. This is a mystery story, not about the murder--and rebirth--of man's spirit. It is a philosophical revolution, told in the form of an action thriller of violent events, a ruthlessly brilliant plot structure and an irresistible suspense. Do you say this is impossible? Well, "that" is the first of your premises to check.
About the Author
AYN RAND is the author of "Anthem, The Fountainhead, " and "Atlas Shrugged", and numerous non-fiction essays on philosophy, ethics, politics, art, and literature. Her philosophy, Objectivism, has gained a worldwide audience of adherents and admirers. She died in March 1982.

Leonard Peikoff is universally recognized as the preeminent Rand scholar writing today. He worked closely with Ayn Rand for thirty years and was designated by her as heir to her estate. He has taught philosophy at Hunter College, Long Island University, and New York University and lectures on Rand's philosophy throughout the country. He lives in Southern California.
Monday, Nov 14, 2011
In the 1950s, Rand felt that her ideal of unfettered capitalism was missing in politics. But today, her ideas are alive and well-represented in the U.S. Capitol. Her philosophy has sunk so deeply into our political thought, many people don't even recognize it as hers anymore. More at NPR.org