Queen of the South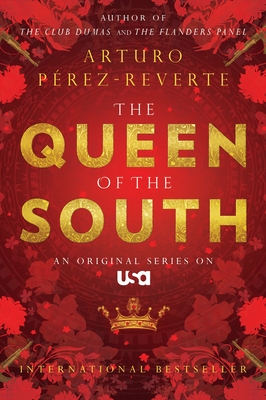 Queen of the South
Plume Books, Paperback, 9780452286542, 464pp.
Publication Date: May 31, 2005
* Individual store prices may vary.
Buy Now
or
Shop Local
Enter your zip code below to purchase from an indie close to you.
Description
Few authors inspire the kind of passion that Arturo Perez-Reverte does. Reviewers, readers, and booksellers alike have embraced his fiction as the perfect blend of suspense and literary ambition. A global bestseller, he is one of the most admired and widely read authors in the world. And his stunning new novel is his best yet.
A remarkable tale, The Queen of the South spans continents, from the dusty streets of Mexico to the sparkling waters off the coast of Morocco, to Spain and the Strait of Gibraltar. A sweeping story set to the irresistible beat of the drug smugglers' ballads, it encompasses sensuality and cruelty, love and betrayal, as its heroine's story unfolds.
Teresa Mendoza's boyfriend is a drug smuggler who the narcos of Sinaloa, Mexico, call "the king of the short runway," because he can get a plane full of coke off the ground in three hundred yards. But in a ruthless business, life can be short, and Teresa even has a special cell phone that Guero gave her along with a dark warning. If that phone rings, it means he's dead, and she'd better run, because they're coming for her next.
Then the call comes.
In order to survive, she will have to say goodbye to the old Teresa, an innocent girl who once entrusted her life to a pinche narco smuggler. She will have to find inside herself a woman who is tough enough to inhabit a world as ugly and dangerous as that of the narcos-a woman she never before knew existed. Indeed, the woman who emerges will surprise even those who know her legend, that of the Queen of the South.
About the Author
Arturo PA(c)rez-Reverteas novels, including "The Queen of the South, Captain Alatriste," and "Purity of Blood," have been translated into twenty-nine languages and published in more than fifty countries. In 2003, he was elected to the Spanish Royal Academy.


Praise For Queen of the South…
"John Le Carre meets Gabriel Garcia Marquez…Pérez-Reverte has a huge following…and it's spreading." —The Wall Street Journal



"A modern-day epic…bearing the unmistakable ring of authenticity and a slam-bang narrative sure to resonate with legions of appreciative readers…All the core elements, after all, are here: love, violence, betrayal and honor." —Los Angeles Times



 "The Da Vinci Code and The Rule of Four…pale in comparison with Pérez-Reverte novels…Pérez-Reverte shines in some white-knuckles action sequences…but his greatest triumph is [his] heroine." —Time Out New York



"Pérez-Reverte's literary thriller explodes with history, heartbreak [and] determination…An epic suspense story of heart and grit." —Entertainment Weekly (Editor's Choice)