The Truth (with Jokes)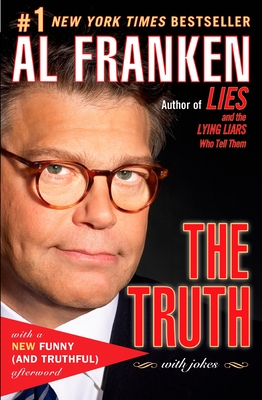 The Truth (with Jokes)
Plume Books, Paperback, 9780452287679, 386pp.
Publication Date: October 1, 2006
* Individual store prices may vary.
Buy at Local Store
Enter your zip code below to purchase from an indie close to you.
or
Buy Here
Description
Al Franken's landmark bestseller,
Lies (And the Lying Liars Who Tell Them): A Fair and Balanced Look at the Right
, was praised as a bitterly funny assault (
zThe New York Times
) that rang with the moral clarity of an angel's trumpet (
The Associated Press
). Now, this master of political humor strikes again with a powerful and provocative message for all of us.
In these pages, Al reveals the alarming story of how:
Bush (barely) beat Kerry with his campaign of fear, smear, and queers, and then claimed a nonexistent mandate.

Casino Jack Abramoff, the Republicans nearest and dearest friend, made millions of dollars off of the unspeakable misery of the poor and the powerless. And, also, Native Americans.

The administration successfully implemented its strategy to destroy America's credibility and goodwill around the world.
Complete with new material for this paperback edition, The Truth (with jokes) is more than just entertaining, intelligent, and insightful. It is at once prescient in its analysis of right-wing mendacity and incompetence, and inspiring in its vision of a better tomorrow for all Americans (except Jack Abramoff).
About the Author
Emmy Award winning television writer and producer, Grammy-winning comedian, and host of The Al Franken Show on Air America Radio, Al Franken is the author of fivebooks, including the number one New York Times bestsellers Lies (And the Lying Liars Who Tell Them): A Fair and Balanced Look at the Right and Rush Limbaugh Is a Big Fat Idiot and Other Observations. He is the only comedian to have performed at Abu Ghraib, as far as we know."
Praise For The Truth (with Jokes)…
"Devastating...The Truth keeps its promise to be funny about extremely unfunny matters. It matches Lies in wit, and its subjects are tougher. The gags have bite. . . .The book stays lively even when it dissects President Bush's views on Social Security . . .And it is effectively leavened with bits of dialogue, many of them all too real." —The New York Times



"Subtle, laugh-or-cry-out-loud and ultimately devastating . . .The Truth (with jokes) is guaranteed to rile the right again with its forensic lasering of Republican skullduggery and media mendacity, laced with sharp humor. . . . [Al Franken] is the voice the American left has been waiting for." —The Guardian (London)