Ice Land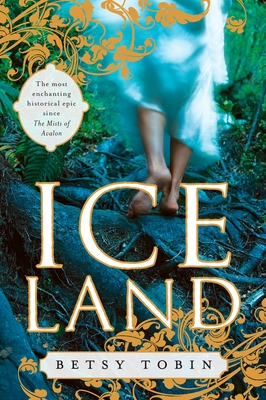 Ice Land
Plume Books, Paperback, 9780452295698, 354pp.
Publication Date: August 25, 2009
* Individual store prices may vary.
Buy Now
or
Shop Local
Enter your zip code below to purchase from an indie close to you.
Description
A beautiful epic of love, longing, redemption, and enchantment in the tradition of Marion Zimmer Bradley's "The Mists of Avalon"
"Iceland, AD 1000"
Freya knows that her people are doomed. Warned by the Fates of an impending disaster, she must embark on a journey to find a magnificent gold necklace, one said to possess the power to alter the course of history. But even as Freya travels deep into the mountains of Iceland, the country is on the brink of war. The new world order of Christianity is threatening the old ways of Iceland's people, and tangled amidst it all are two star-crossed lovers who destiny draws them together?even as their families are determined to tear them apart
Infused with the rich history and mythology of Iceland, Betsy Tobin's sweeping novel is an epic adventure of forbidden love, lust, jealousy, faith and magical wonder set under the shadow of a smoldering volcano.
About the Author
Betsy Tobin is the acclaimed author of four novels: BONE HOUSE, short-listed for the Commonwealth Prize and winner of a Herodotus Prize in America, THE BOUNCE, ICE LAND, and CRIMSON CHINA, a BBC Radio 4 Book-At-Bedtime and shortlisted for Epic Romantic Novel of the Year. Her books have been published throughout Europe and North America and two have been optioned for feature film. Betsy also writes for stage and radio, and is a past winner of the London Writers' Competition for her short story, JOYRIDE. Born and raised in the American Midwest, she now lives in London and Wales with her husband and four children, and teaches writing with Arvon and First Story.
Praise For Ice Land…
"Magic....[this] flight through the seamy side of Scandinavian myth is not as cold as the title might suggest. It's a story of sex, love, blood, and the twilight of the gods, punctuated with hot pools, boiling magma, and volcanic explosions. Very steamy!"
-Diana Gabaldon, author of the Outlander novels

"A rich, complex, and compelling tale of myth, magic and very human passion. Tobin weaves together legend and history into an epic saga, layering the grandeur of a semi-mythic Iceland with the familiar landscape of the human heart."
-Lauren Willig, author of The Secret History of the Pink Carnation

"Ice Land had me with its first sentence. I loved the book's journey into long- ago time and the myths of epic, ancient gods. Tobin is a skillful and talented writer."
-Karleen Koen, author of Dark Angels

"A very engrossing read. Told in Betsy Tobin's lyrical voice and set against a backdrop of mythical and natural grandeur, Ice Land is a tale both sensual and violent."
-Kristen Britain, author of the Green Rider series

"[Tobin] hits big... [Her] rich understanding of the source material, backed up by deft historical touches...brings the narrative to life."
-Publisher's Weekly

"One does not often meet a heroine with the power of flight, but Betsy Tobin's characters are hardly ordinary people. . . Not just a good story, but one of the greatest."
-The Times (UK)

"Tobin captures this world in all its complexity. . . Here is a world where magic and mystery rise from the currents of nature and not in defiance of it. The land itself, and the sea and sky surrounding, engender myth as naturally as the salmon spawns."
-The Independent (UK)

"ICE LAND is a lyrically written epic inspired by the beauty and the history of that island, and the rich world of Norse mythology that infuses it. . . Indeed the novel grafts a modern sensibility on to ancient myth, and is as much a contemplation of love and relationships as an epic adventure. . . Tobin finds female complexity at the heart of Norse mythology."
- Sunday Telegraph (UK)

"The novels of Betsy Tobin are dark and bloody, sensual and mythic. . . In ICE LAND Tobin inhabits this pagan land with passion and intensity."
-The Observer (UK)

"[ICE LAND] pulses with subversion and unexpected passion. . . an elegy not merely to a different age where the gods were perceived as not so distant, but also crucially to a tradition of storytelling; the gathering around a bright fire to hear tales of hardship, magic and love. It is surprising just how resonant they still are."
-Telegraph (UK)

"Tobin's descriptions of the natural relief of Iceland are triumphant."
-Time Out (UK)