Eminem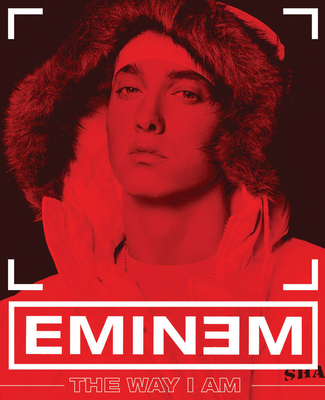 Eminem
The Way I Am
Plume Books, Paperback, 9780452296121, 216pp.
Publication Date: October 27, 2009
* Individual store prices may vary.
Buy Now
or
Shop Local
Enter your zip code below to purchase from an indie close to you.
Description
Chart topping-and headline-making-rap artist Eminem shares his private reflections, drawings, handwritten lyrics, and photographs in his "New York Times" bestseller "The Way I Am"
Fiercely intelligent, relentlessly provocative, and prodigiously gifted, Eminem is known as much for his enigmatic persona as for being the fastest-selling rap artist and the first rapper to ever win an Oscar. Everyone wants to know what Eminem is really like-after the curtains go down. In "The Way I Am," Eminem writes candidly, about how he sees the world. About family and friends; about hip-hop and rap battles and his searing rhymes; about the conflicts and challenges that have made him who he is today.
Illustrated with more than 200 full-color and black-and-white photographs-including family snapshots and personal Polaroids, it is a visual self-portrait that spans the rapper's entire life and career, from his early childhood in Missouri to the basement home studio he records in today, from Detroit's famous Hip Hop Shop to sold-out arenas around the globe. Readers who have wondered at Em's intricate, eye- opening rhyme patterns can also see, first-hand, the way his mind works in dozens of reproductions of his original lyric sheets, written in pen, on hotel stationary, on whatever scrap of paper was at hand. These lyric sheets, published for the first time here, show uncut genius at work. Taking readers deep inside his creative process, Eminem reckons with the way that chaos and controversy have fueled his music and helped to give birth to some of his most famous songs (including "Stan," "Without Me," and "Lose Yourself").
Providing a personal tour of Eminem's creative process, "The Way I Am" has been hailed as "fascinating," "compelling," and "candid.
About the Author
Eminem is a multi-platinum recording artist and the recipient of two Grammy Awards. His full-length albums, The Slim Shady LP and The Marshall Mathers LP, have garnered vociferous critical acclaim.

Sacha Jenkins much like rap great KRS-One is hip hip. Sachy-Sach, his sister Dominiqe, and their artistically inclined, Haitian-born mom-dukes, Monart, moved to Astoria, Queens, NY from Silver Springs, MD in the summer of 1977. Their Philadelphia, PA-reared, filmmaking/Emmy Award-winning pop-dukes, Horace, was already living up in NYC at the time (100th Street & Central Park West, to be exact . . . blocks away from the infamous Rock Steady Park). During the school week, young Sacha spent his post three o clock days playing stickball and skelly. Then...
1980 Sacha was blessed by an elder with an instrument of destruction that would forever change his life. PK, a local subway scrawler with some inter-borough celebrity, handed the young boy a very juiced-up Pilot magic marker.
1988 Inspired by a the "International Graffiti Times" (a rag published by aerosol legend Phase 2 and David Schmidlap), Sacha would put together "Graphic Scenes & X-plicit Language" a zine dedicated to, yep, graf. And poetry. And anti-Gulf War rants. And humor. And towards the end, in 1991, music.
1992 "Beat Down", America s "first" hip hop newspaper, is launched by Sacha and a childhood friend. Ten issues in, Sacha and childhood friend have a falling out. Bye bye, Black bird.
June, 1994 e"go trip" magazine is born.
1996 Sacha writes for "Vibe", " Rolling Stone" and "Spin". He gets a Writer-At-Large then Music Editor gig at "Vibe".
Present In his spare time, Sacha likes to play guitar, collect "Planet of the Apes" action figures and listen to rap that isn t wack. He s a Leo.
Praise For Eminem…
"The biggest rapper in history."-Rolling Stone

"The best rapper alive."-Vibe magazine

"Part autobiography, part photo gallery, part ephemera collection, it's a handsome roundup for an artist who has been notoriously reluctant to discuss his personal life anyplace but in his music."-New York Times