This Is Where I Leave You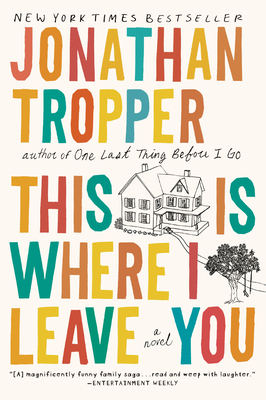 This Is Where I Leave You
Plume Books, Paperback, 9780452296367, 339pp.
Publication Date: July 6, 2010
* Individual store prices may vary.
Shop Local
Enter your zip code below to find indies closest to you.
Description
Now a major motion picture starring Jason Bateman, Tina Fey Jane Fonda, and Adam Driver
"Often sidesplitting, mostly heartbreaking... Tropper is] a more sincere, insightful version of Nick Hornby, that other master of male psyche." --"USA Today"
The death of Judd Foxman's father marks the first time that the entire Foxman clan has congregated in years. There is, however, one conspicuous absence: Judd's wife, Jen, whose affair with his radio- shock-jock boss has recently become painfully public. Simultaneously mourning the demise of his father and his marriage, Judd joins his dysfunctional family as they reluctantly sit shiva-and spend seven days and nights under the same roof. The week quickly spins out of control as longstanding grudges resurface, secrets are revealed and old passions are reawakened. Then Jen delivers the clincher: she's pregnant.
"This Is Where I Leave You" is Jonathan Tropper's ("One Last Thing Before I Go) "most accomplished work to date, and a riotously funny, emotionally raw novel about love, marriage, divorce, family, and the ties that bind-whether we like it or not.
About the Author
Jonathan Tropper is the author of Everything Changes, The Book of Joe, which was a Book Sense selection, and Plan B. He lives with his wife, Elizabeth, and their children in Westchester, New York, where he teaches writing at Manhattanville College. How to Talk to a Widower was optioned by Paramount Pictures, and Everything Changes and The Book of Joe are also in development as feature films. Jonathan can be contacted through his website at www.jonathantropper.com.