The Magician King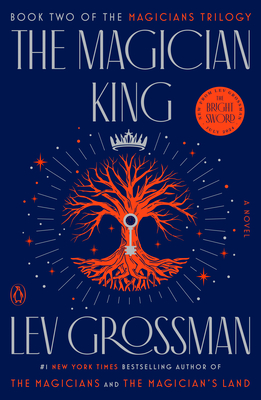 The Magician King
Plume Books, Paperback, 9780452298019, 400pp.
Publication Date: May 29, 2012
* Individual store prices may vary.
Buy at Local Store
Enter your zip code below to purchase from an indie close to you.
or
Buy Here
Description
Return to Fillory in the riveting sequel to the "New York Times" bestseller and literary phenomenon, "The Magicians," now an original series on Syfy, from the author of the #1 bestselling "The Magician's Land."
Quentin Coldwater should be happy. He escaped a miserable Brooklyn childhood, matriculated at a secret college for magic, and graduated to discover that Fillory a fictional utopia was actually real. But even as a Fillorian king, Quentin finds little peace. His old restlessness returns, and he longs for the thrills a heroic quest can bring.
Accompanied by his oldest friend, Julia, Quentin sets off only to somehow wind up back in the real world and not in Fillory, as they d hoped. As the pair struggle to find their way back to their lost kingdom, Quentin is forced to rely on Julia's illicitly learned sorcery as they face a sinister threat in a world very far from the beloved fantasy novels of their youth.
About the Author
Lev Grossman was born in Massachusetts in 1969 and studied literature at Harvard and Yale. He is currently a writer and book critic for Time Magazine. He has written feature articles for Salon, Lingua Franca, Entertainment Weekly, Time Out New York and The Village Voice, and was previously the producer of timedigital.com, Time magazine's personal technology website. This is his second novel. He lives in Brooklyn.
Praise For The Magician King…
"[A] serious, heartfelt novel [that] turns the machinery of fantasy inside out."—The New York Times (Editor's Choice)
"A spellbinding stereograph, a literary adventure novel that is also about privilege, power, and the limits of being human. The Magician King is a triumphant sequel."—NPR.org
"[The Magician King] is The Catcher in the Rye for devotees of alternative universes. It's dazzling and devil-may-care. . . . Grossman has created a rare, strange, and scintillating novel."—Chicago Tribune
"The Magician King is a rare achievement, a book that simultaneously criticizes and celebrates our deep desire for fantasy."—The Boston Globe
"Grossman has devised an enchanted milieu brimming with possibility, and his sly authorial voice gives it a literary life that positions The Magician King well above the standard fantasy fare."—San Francisco Chronicle
"Grossman expands his magical world into a boundless enchanted universe, and his lively characters navigate it with aplomb."—The New Yorker
"Grossman is brilliant at creating brainy, distinct, flawed, complex characters, and nearly as good at running them through narrative gauntlets that inventively tweak the stories that generations have grown up on."—The Portland Oregonian
"The Magician King, the immensely entertaining new novel by Lev Grossman, manages to be both deep and deeply enjoyable."—Chicago Sun-Times
"Readers who have already enjoyed The Magicians should lose no time in picking up The Magician King. For those who haven't, read both books: Grossman's work is solid, smart, and engaging adult fantasy."—The Miami Herald
"Now that Harry Potter is through in books and films, grown-up fans of the boy wizard might want to give this nimble fantasy series a try."—New York Post

"Lev Grossman's The Magician King is a fresh take on the fantasy-quest novel—dark, austere, featuring characters with considerable psychological complexity, a collection of idiosyncratic talking animals (a sloth who knows the path to the underworld, a dragon in the Grand Canal), and splendid set pieces in Venice, Provence, Cornwall, and Brooklyn."—The Daily Beast
"In this page-turning follow-up to his bestselling 2009 novel The Magicians, Grossman takes another dark, sarcastically sinister stab at fantasy, set in the Narnia-esque realm of Fillory."—Entertainment Weekly
"The Magician King is clearly the middle book in a trilogy, but it's that rare creature that bridges the gap between tales and still stands on its own. And just as the first book showed that growing up is hard no matter how much power you have, it shows that becoming an adult involves far more than just reaching the right age."—The A.V. Club
"Fabulous fantasy spiked with bitter adult wisdom—not to be missed."—Kirkus Reviews (starred review)
"Fans of The Magicians will find this sequel a feast and will be delighted that a jaw-dropping denouement surely promises a third volume to come."—Booklist