Winning the War on War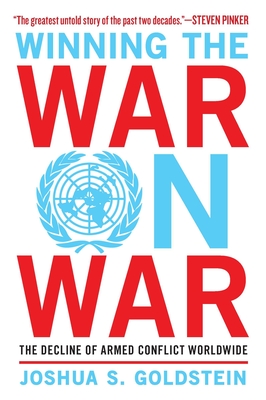 Winning the War on War
The Decline of Armed Conflict Worldwide
Plume Books, Paperback, 9780452298590, 385pp.
Publication Date: July 31, 2012
* Individual store prices may vary.
Buy at Local Store
Enter your zip code below to purchase from an indie close to you.
or
Buy Here
Description
Everyone knows: wars are getting worse, more civilians are dying, and peacemaking achieves nothing, right? Wrong.
Despite all the bad-news headlines, peacekeeping "is" working. Fewer wars are starting, more are ending, and those that remain are smaller and more localized. But peace doesn't just happen; it needs to be put into effect. Moreover, understanding the global decline in armed conflict is crucial as America shifts to an era of lower military budgets and operations.
Preeminent scholar of international relations, Joshua Goldstein, definitively illustrates how decades of effort by humanitarian aid agencies, popular movements--and especially the United Nations--have made a measureable difference in reducing violence in our times. Goldstein shows how we can continue building on these inspiring achievements to keep winning the war on war.
This updated and revised edition includes more information on a post-9-11 world, and is a perfect compendium for those wishing to learn more about the United States' armed conflicts in Iraq and Afghanistan.

About the Author
Joshua S. Goldstein, is an associate of the Watson Institute for International Studies at Brown University and a leading expert on war. His books include "International Relations and War and Gender: How Gender Shapes the War System and Vice Versa". He lives in Amherst, MA.
Praise For Winning the War on War…
"Winning the War on War reveals the greatest untold story of the past two decades-that contrary to popular impressions, war has become substantially rarer and less dangerous... This book could change the understanding of policy makers, opinion leaders, and a wide readership." -Steven Pinker, professor of psychology, Harvard College; author of the bestseller The Blank Slate

"Winning the War on War does what no other book has attempted, providing a synoptic view, and narrative, of the slow but successful evolution of UN peacekeeping. It takes an unusual and unorthodox approach that works very well indeed." - Paul Kennedy, Professor of History, Yale University and author of The Rise and Fall of the Great Powers

"Professor Goldstein has written a novel, highly informative, and exceedingly valuable book." - David Hamburg, President Emeritus, Carnegie Corporation of New York; former president, AAAS

"A highly readable account of the nature and problems of peacekeeping… an important contribution to public understanding of international affairs." - Brian Urquhart, Former Undersecretary-General of the UN; author of Ralph Bunche: An American Life and Hammarskjöld

"Joshua Goldstein… tells the untold story of how we seem to be winning the long-term fight against war, and why. His book should be required reading for policymakers and the media." -Nils Petter Gleditsch, Peace Research Institute Oslo

"A surprising study that suggests warfare is decreasing .... Optimistic, useful history of diplomacy as counterweight to brutality." -Kirkus

"The most important political book of the year." -Gregg Easterbrook, author of The Progress Paradox