Andy Warhol and the Can That Sold the World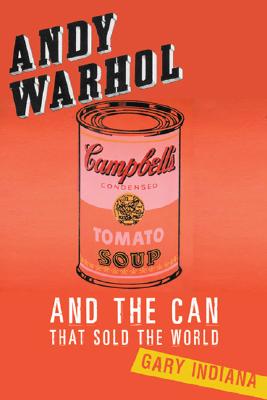 Andy Warhol and the Can That Sold the World
Basic Books (AZ), Hardcover, 9780465002337, 175pp.
Publication Date: February 1, 2010
* Individual store prices may vary.
Buy Now
or
Shop Local
Enter your zip code below to purchase from an indie close to you.
Description
In the summer of 1962, Andy Warhol unveiled 32 Soup Cans in his first solo exhibition at the Ferus Gallery in Los Angeles--and sent the art world reeling. The responses ran from incredulity to outrage; the poet Taylor Mead described the exhibition as "a brilliant slap in the face to America." The exhibition put Warhol on the map--and transformed American culture forever. Almost single-handedly, Warhol collapsed the centuries-old distinction between "high" and "low" culture, and created a new and radically modern aesthetic.
In "Andy Warhol and the Can that Sold the World," the dazzlingly versatile critic Gary Indiana tells the story of the genesis and impact of this iconic work of art. With energy, wit, and tremendous perspicacity, Indiana recovers the exhilaration and controversy of the Pop Art Revolution and the brilliant, tormented, and profoundly narcissistic figure at its vanguard.
About the Author
Described by Christian Lorenzen of the "London Review of Books "as one of the most brilliant critics working in America today, Gary Indiana is the author of seven novels, including "Three Month Fever", "Depraved Indifference", "Rent Boy", " "and "Horse Crazy". His nonfiction books include "Let It Bleed", " The Schwarzenegger Syndrome", and "Utopia's Debris". " I Can Give You Anything But Love", his first (and only) memoir, was published recently by Rizzoli. New editions of "Depraved Indifference" and "Three Month Fever", volumes two and three of his crime trilogy, are forthcoming from Semiotext(e).
Praise For Andy Warhol and the Can That Sold the World…
Newsweek
"Engrossing"

Buffalo News
"Elegant and impressive…[a] witty, smart, near-definitive consideration of Warhol."
San Diego Tribune
"Gary Indiana's Andy Warhol and the Can That Sold the World is a fresh portrait of the artist…No one has dissected Warhol's complex personality better. And no one has written more concisely and accessibly about him."

Lincoln Journal Star
"Heartily recommend[ed]…I've got a shelf of Warhol books - biographies, essays, exhibition catalogs - and I've seen dozens of exhibitions of his work. Indiana's book added something to my knowledge and understanding of Warhol, which is saying something."

Baltimore City Paper
"A thoughtful look at the late Pop artist's defining work…in narrowing his focus, the author locates and captures Warhol's essence."

Liberty Press
"Indiana is able to give a fresh and new perspective on one of America's most enigmatic 20th-century artistic figures, beyond any other biography heretofore."