A Time to Every Purpose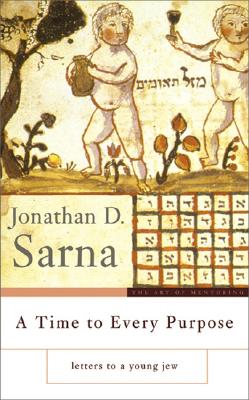 A Time to Every Purpose
Letters to a Young Jew
Basic Books (AZ), Hardcover, 9780465002467, 200pp.
Publication Date: September 1, 2008
* Individual store prices may vary.
Not Currently Available for Direct Purchase
or
Shop Local
Enter your zip code below to purchase from an indie close to you.
Description
At the turn of the twenty-first century, the central question confronting Jewish leaders in America is simple:
"Why be Jewish?"
Jonathan D. Sarna, acclaimed scholar of American Judaism, believes that Why be Jewish? is the wrong question. Judaism, he believes, is not so much a why as a "way"a way of life, a way of marking time, a way of relating to the environment, to human beings, to family, and to God. Judaism is experienced through "doing"doing things Jewish, doing things for fellow Jews in need, doing things as a Jew to improve the state of the world. The more Judaism one "does," the more one comes to appreciate what Judaism "is."
Using the Jewish calendar as his starting point, Sarna reflects on the major themes of Jewish life as expressed in a full year of holidaysfrom Passover in the spring to Purim eleven months later. Passover, for instance, yields a discussion of freedom; Shavuot, a discussion of Torah; Yom Kippur, the role of the individual within the Jewish community; Chanukah, issues of assimilation and anti-assimilation.
An essential brief introductionor reintroductionto the major practices of Jewish life as well as the many complexities of the American Jewish experience, this book will be essential reading for American Jews and the perfect gift for the holiday season.
About the Author
Jonathan D. Sarna is the Joseph H. and Belle R. Braun Professor of American Jewish History at Brandeis University and Chief Historian of the National Museum of American Jewish History. He has written, edited or co-edited more than twenty-five books, including "American Judaism: A History", winner of the Jewish Book of the Year award from the Jewish Book Council.