The Secret Lives of Boys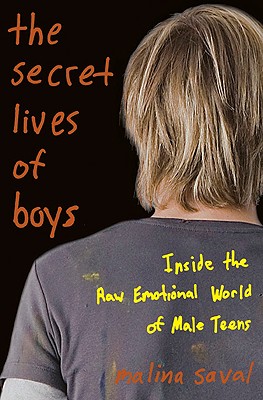 The Secret Lives of Boys
Inside the Raw Emotional World of Male Teens
Basic Books, Hardcover, 9780465002542, 272pp.
Publication Date: April 1, 2009
* Individual store prices may vary.
Not Currently Available for Direct Purchase
or
Shop Local
Enter your zip code below to purchase from an indie close to you.
Description
An edgy and revealing examination of the lives, dreams, and goals of teenage boys today
About the Author
Malina Saval's writing has appeared in Glamour, the Jerusalem Post, the Los Angeles Times, Heeb, Variety, Forward, RES, Moment, Unleashed, and LA Weekly, where The Secret Lives of Boys appeared first as a cover story. She lives in Los Angeles, California.
www.malinasaval.com
Praise For The Secret Lives of Boys…
Allison Burnett, author of Undiscovered Gyrl
"With the objectivity of a sociologist and the compassion of a saint, Malina Saval takes us on a journey into the hearts and minds of teenaged boys, letting them do what our society rarely does: speak for themselves. The trip is painful, funny, frightening, hopeful, and, ultimately, unforgettable."

Andy Behrman, author of Electroboy
"Malina Saval's vibrant writing style and fascinating journeys into the lives of ten young boys provides parents with extremely useful information about how to help shepherd kids through adolescence in the 21st century...The Secret Lives of Boys is a must-read for people looking to understand the 'mainspring' of this demographic which we've been so quick to write off."
Blake Nelson, author of Paranoid Park
"A fascinating and up-to-the-second survey of that most mysterious segment of our population: teenaged boys."
Arkansas Democrat-Gazette
"Through Saval's keen observations, we're allowed to meet 10 teenage boys who are complex, insightful, thoughtful, optimistic and resilient. You can't learn that from test scores."
Booklist
"…Saval's well-edited portraits reflect real-life's nuances and messy contradictions and offer a refreshing, often-optimistic sense of male teens' strength and resilience."
Boston Globe
"Malina Saval has been called 'The Boy Whisperer' for her skill at getting teenage boys to open up (we need her at our house)."
Library Journal Xpress Review (online)
"Saval introduces us to ten very different teenage boys and makes a compelling case for the so-called problem with adolescent males being not the boys, but an overreliance on statistics and norms to tell their stories."
New York Times Book Review
"[R]eal, funny and astute.…Parents, teachers and especially teenage girls will be fascinated to know that boys care about fashion, cry about girlfriends and have deep feelings. More important, they might see aspects of themselves reflected in these stories and realize, as I did, that boys aren't so mystifying ­after all."
Bookworm Sez
"The Secret Lives of Boys is one of those books that every adult should read, whether they have a teenage boy or not, because it busts the myths we tend to form after reading the news or hearing the latest teen-gone-bad story. For parents, Saval offers hard data that they can cling to, advice and a mega-dose of hope… If you're the parent of a male teen or a teen-to-be (or if you want to know more about the guy your daughter is dating), oh, boy, this is a good book to have."

Feminist Review
"I hope that everyone with a teenage boy in his or her life (or a boy about to be a teenager, or a young man who's just finished his teen years)—or who is a teen boy, for that matter—will read this book and see that boys are just as human as the rest of us."