Masters of Sex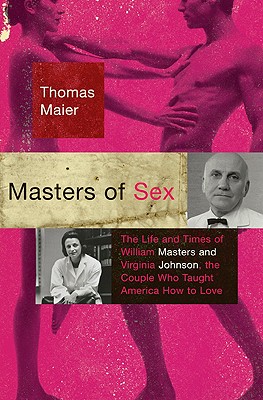 Masters of Sex
The Life and Times of William Masters and Virginia Johnson, the Couple Who Taught America How to Love
Basic Books, Hardcover, 9780465003075, 432pp.
Publication Date: April 1, 2009
* Individual store prices may vary.
Buy at Local Store
Enter your zip code below to purchase from an indie close to you.
or
Not Currently Available for Direct Purchase
Description
The definitive biography of the famous sex research team who dramatically transformed American sexuality yet whose private relationship was just as complex and dysfunctional as any of their patients
About the Author
Thomas Maier is the author of The Kennedys: America's Emerald Kings, which was adapted for Warner Home Video DVD, and the critically acclaimed Dr. Spock, which was a New York Times Notable Book of the Year in 1999. He is a special writer at Newsday. He lives in Long Island, New York.
www.thomasmaierbooks.com
Praise For Masters of Sex…
Nelson DeMille, bestselling author of The Gold Coast and The Gate House
"The subject of this book—sex and love—should interest just about everyone. As a bonus, Thomas Maier is a very fine writer, an accomplished biographer, and an astute reporter. If you read only one biography this year, it should be this first-ever look at the secretive lives of Masters and Johnson."
Gay Talese, author of Thy Neighbor's Wife and A Writer's Life
"A well-written and insightful account of Masters and Johnson, who, in a clinical sense, probably knew more about sex and marital love than any other couple in America"
Debby Applegate, Winner of the 2007 Pulitzer Prize in Biography for The Most Famous Man in America: The Biography of Henry Ward Beecher
"Masters of Sex is a terrific book about the unlikely couple who touched off the sexual revolution. More than a biography, this is an intimate history of sex in the twentieth-century."
Dr. Ruth K. Westheimer
"No novelist could come up with something as remarkable as the real life story of William Masters and Virginia Johnson, the married experts giving advice to America on sex and love. With insightful reporting and writing, Thomas Maier has captured this extraordinary relationship between these male and female sex researchers, a legacy that transformed the way couples live today."
Pepper Schwartz, Ph.D., Past President of the Society for the Scientific Study of Sexuality, and author of Prime: Adventures and Advice About Sex, Love and the Sensual Years
"It's hard to imagine any sex researcher or serious student of sexuality who wouldn't profit from reading this book. The information revealed in Masters of Sex has never surfaced before—and besides being a real contribution to the history of science, it's a totally captivating read!"
Hugh Hefner, editor in chief, Playboy magazine
"Thomas Maier has written the intimate, engaging biography that Masters and Johnson deserve. Critics often accused the pair of 'dehumanizing' sex with their research—of removing its mystery. But as Gini Johnson told Playboy in 1968, mystery is just another name for superstition and myth. The more we know about the physiology of arousal, the better we can enjoy the uniquely human experience of sex for pleasure. Masters and Johnson showed tremendous courage in their research."
Booklist (starred review)
"A wonderfully written and totally absorbing look at an amazing couple."
O, The Oprah Magazine
"Perhaps influenced by its steamy subject matter, Masters of Sex…may strike some readers as unusually graphic for a biography, but this unsettling story of sex and science in theory and practice is ultimately more cautionary than titillating."
Library Journal Online
"Award-winning biographer Maier…delivers the first in-depth look at a complex couple who helped revolutionize the study of human sexual response. Academics and amateur sexperts alike will rejoice."
Discover magazine
"Maier's illuminating biography delves into the lives of the couple that started science's sexual revolution."
The American Prospect
"Absorbing…Masters of Sex is this spring's true must-read book for those looking to revisit the heady, early days of the sexual revolution."
The Economist
"If there is a moral to this tale, it is perhaps that the human heart remains as much of a mystery as the sex organs once used to be."
The Daily Beast
"Sedulously researched and deeply absorbing…Masters of Sex is a richly informed and elegantly organized account of the two people behind the logo that stood for new sexual horizons."
The Buffalo News
"Writing a readable but serious biography of Masters and Johnson was no easy task. The natural impulse is to drain such passionate clinicality of personality and leave a hollow crusade in its place. Maier's book resists it constantly. It's about heroes and flaws and a couple of people whose lives underlay a good half of what we know for sure about what we all think we know so much."

New York Times Book Review
"A bombshell…eye-opening."

New York Times
"Told with patience and care...Maier writes well, and with humor."