The Moment of Psycho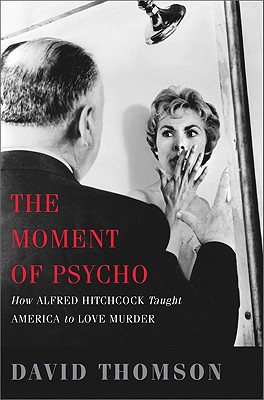 The Moment of Psycho
How Alfred Hitchcock Taught America to Love Murder
Basic Books, Hardcover, 9780465003396, 192pp.
Publication Date: November 1, 2009
* Individual store prices may vary.
Buy at Local Store
Enter your zip code below to purchase from an indie close to you.
or
Not Currently Available for Direct Purchase
Description
Renowned film critic David Thomson plumbs the horror and inspiration of Alfred Hitchcock's greatest film.
About the Author
English-American writer David Thomson is the author of many books on film, including "Have You Seen...?" A Personal Introduction to 1,000 Films, which the New York Times called, "passionate, illuminating, rich, and eccentric"; and the massively influential Biographical Dictionary of Film called "the best book on the movies ever written in English" (The New Republic). He lives in San Francisco with his family.
Praise For The Moment of Psycho…
BookPage
"[A]uthoritative…. Thomson's detailed and insightful primer is the perfect book for Hitchcock aficionados and general film fans alike."

The Weekly Standard
"Psycho's impact on the movies is undeniable, a key moment in Hitchcock's oeuvre that has had as lasting an impact as anything the great auteur ever directed. David Thomson's rereading of Psycho a half-century after its release shows us just how far we've come. And in some ways, how far we've fallen."

Booklist
"Thomson offers a close reading [of Psycho] distinguished by insight and illumination, particularly about the problematic second half."

Film Comment
"[I]lluminating…. [T]he book's pleasures arise from reverent insights into the film's labyrinth of detail and moral math…. [T]he note Thomson closes on resonates beautifully, conveying a keen understanding of the things great movies hold for us, either in their historical moment, or some 50 years later."

Buffalo News
"[A] virtuoso piece of movie criticism…. [A] truly great piece of film criticism by our finest living film critic…. It tells the story of 'Psycho'…in such an original and brilliant way that you're almost hearing about a film you've either never seen before or only dimly and inadequately remembered."

SF Weekly
"[A] slender, clever volume, with its deceptive breeziness, its confident scarcity of photographs, its sportive blood-red endpaper, and a general sense that Hitchcock's most famous movie should be an ideal subject for the tirelessly observant local cinema essayist to write about."

The Week
"Thomson captures the film's milieu in such a 'brilliant way' that you'll feel as if you're seeing it for the first time."

Kansas City Star
"Just in time to please the picky movie buff on your shopping list: David Thomson's The Moment of Psycho. I love this book…. Thomson is one of our best writers about cinema, combining intellectual rigor with snappy, entertaining prose. No film-professor stuffiness here."
SF360.org
"Critic and historian extraordinaire David Thomson's slender new book…is a delicious and incisive commemoration of the film's golden anniversary. Thomson spans the negotiations that gave Hitchcock creative control (and a financial windfall), drops in nuggets from the production and delivers a brilliant analysis of the film's structure, scenes and shots."

New York Times
"[Thomson] makes a powerful – and sometimes surprising – case for the movie's importance in film and cultural history."
The Boston Globe
"Thomson takes a kaleidoscopic perspective on his subject, surrounding 'Psycho' from all sides after carefully treading every length of the film itself. But as he astutely grasps, the story of 'Psycho' is as much about the moments that followed as the film itself. 'Psycho's' bombshell has been continually going off for half a century; every time we leap out of our seats with fear – or fail to be similarly moved by genuine horror."

Austin American-Statesman
"Slim, daggerlike…. [Thomson's] prose never does unnecessary backflips as much as it moves with skill and confidence, wit and vigor, the gymnast in command of his routine."
The Morning News
"[Thomson] wields an impressive erudition, offering an analytical point of view in the most useful kind of commentary – placing the objects of his investigation in their cultural contexts."
Oxford America
"Opening gently with a history lesson, Thomson sets up the 'making-of' with some juicy backstory regarding the pre-production and casting of the rule-breaking film.... [A] bright and informative resource."
New York Times book Review
"[Thomson's] vast storehouse [of knowledge] is on full display here, in honor of the 50th anniversary of the release of 'Psycho.' (It opened in June 1960.) He skillfully locates the movie in Hitchcock's oeuvre, linking its theme of the dangers of loneliness to 'Rear Window' and 'The Birds' and its voyeurism to 'Strangers on a Train' and others."

The Jewish Journal of Greater Los Angeles
"Thomson has all of the qualities one would want in a film writer: breadth of knowledge, unpredictable prose, humor. His off-the-cuff responses to 'Psycho' are provocative and offer much to argue with."
Palm Beach Post
"Thomson is at all times a delicious, stimulating writer, and the book is particularly interesting as he shifts between admiration for the director's technical skills, and a stark dismay at Hitchcock's customary evasion of reality."
Curled Up With A Good Book
"In this small but effective study, [Thomson] gives us a stark, fascinating behind-the-camera look at Alfred Hitchcock and his legendary black-and-white film Psycho."

Cineaste Magazine
"Thomson's knack for eye-catching phrasing and casual penchant for penetrating observation remain vivid strengths, and there are lines to quote and insights to savor galore in this brief book."

Newsday
"Film historian David Thomson's anniversary tribute to the breakthrough movie of the '60s unspools with insight and affection…. The Moment of Psycho makes you want to revisit the landmark shocker."

MovieMaker
"Thomson's writing is punchy and concise…. The Moment of Psycho shows how pivotal the 'moment' of Psycho truly was."