The Past Is Never Dead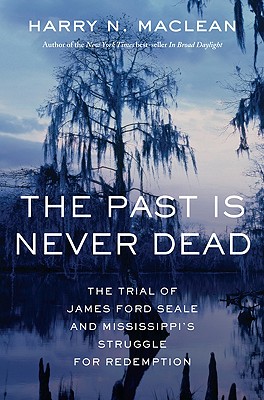 The Past Is Never Dead
The Trial of James Ford Seale and Mississippi's Struggle for Redemption
Basic Civitas Books, Hardcover, 9780465005048, 290pp.
Publication Date: September 22, 2009
* Individual store prices may vary.
Not Currently Available for Direct Purchase
or
Shop Local
Enter your zip code below to purchase from an indie close to you.
Description
On May 2, 1964, Klansman James Ford Seale picked up two black hitchhikers and drowned both young men in the Mississippi River. Seale spent more than forty years a free man, before finally facing trial in 2007. There could have been two defendants in the resulting case: James Ford Seale for kidnapping and murder, and the State of Mississippi for complicityknowingly aiding, abetting, and creating men like Seale.
In "The Past Is Never Dead," best-selling author Harry MacLean follows Seale's trial, the legal difficulties of prosecuting kidnapping and murder charges decades after the fact, and the strain on a state contending with a past that can t be forgiven. MacLean's narrative is at once the account of a gripping legal battle and an acute meditation on the possibility of redemption.
About the Author
HARRY N. MACLEAN is a lawyer and writer based in Denver, Colorado. He is the author of In Broad Daylight, which won an Edgar Award for Best True Crime and was a New York Times bestseller for twelve weeks; his second book, Once Upon A Time: A True Story of Memory, Murder, and the Law, was named a New York Times Notable Book of the Year; his third book, The Past Is Never Dead: The Trial of James Ford Seale and Mississippi's Search for Redemption, was shortlisted for the William Saroyan Award, given by Stanford University. His debut novel, The Joy of Killing, published in July 1015, has been described as a "combination love story, mystery, psychological suspense and meditation on the nature and origin of violence."
Praise For The Past Is Never Dead…
BookPage
"The Past Is Never Dead works both as a true crime potboiler and as a broader allegory of the South's search for redemption."

Booklist
"From jury selection through the actual trial, MacLean offers a portrait of a state grappling with its past and anxious to remove its stigma."

CrimeRant.com
"With this book, Harry proves just how good he is as a lawyer and author…You will be riveted. Enough said."

Jackson Free Press
"MacLean's writing is unambiguous and clear, entertaining and fast-paced…The book is riveting."

Denver Post
"[E]xtraordinary…What makes this book so profound are MacLean's insights into how the trial reflects Mississippi's social mores and internal conflict."

Roll Call
"[I]nsightful for anyone who wants a better understanding of the history of race relations in the South."

Stephen White, New York Times bestselling author of The Siege
"Harry MacLean proves it yet again: Take a simmering controversy, a tense courtroom, and a pressing need for social context, and America has no better literary guide than MacLean. In The Past is Never Dead, he focuses his considerable storytelling talent on Mississippi's attempt to resurrect itself from the horrors of its segregationist past as James Ford Seale is brought to trial for his role in the deaths of Henry Dee and Charles Moore. MacLean brings the epic trial to life while he translates modern Mississippi's struggles for transformation. A powerful, timely book about the misunderstood, modern South."

Henry Louis Gates, Jr.
"Even decades after the Civil Rights Movement wrought real change throughout the United States, Mississippi remains ground zero for what can be called the ongoing drama of racial inequality. This is the ground Harry Maclean walks in this fierce, moving, and tremendously engaging book."

Laurence Shames, author of Boss of Bosses and Not Fade Away
"Fast-paced and tough-minded, The Past is Never Dead combines a taut and vivid courtroom drama with a passionate and cogent meditation on race, justice, and the awful burden of history."
Saturday, Oct 3, 2009
Forty-five years ago, the bodies of two young black men turned up, brutally mangled, in a tributary of the Mississippi River. In a new book, author Harry MacLean explores the trial of reputed Klansman James Ford Seale for the murders decades later — and Mississippi's continued struggle with its racial history. More at NPR.org