Thieves in the Temple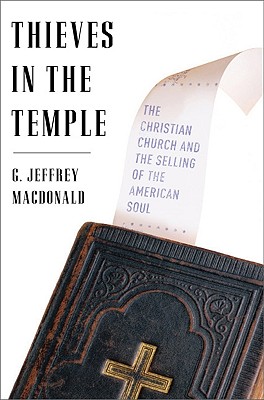 Thieves in the Temple
The Christian Church and the Selling of the American Soul
Basic Books (AZ), Hardcover, 9780465009329, 238pp.
Publication Date: March 30, 2010
* Individual store prices may vary.
Buy at Local Store
Enter your zip code below to purchase from an indie close to you.
or
Not Currently Available for Direct Purchase
Description
A pastor and religious journalist's cri de coeur for a new religious reformation, denouncing the consumer-friendly congregations and therapeutic ministry of the mega-church era
About the Author
G. Jeffrey MacDonald is an award-winning journalist and an ordained minister in the United Church of Christ. A graduate of Yale Divinity School, he is a correspondent for the Christian Science Monitor and the Religion News Service. He lives in Massachusetts.
Praise For Thieves in the Temple…
Os Guinness, author of The Last Christian on Earth
"Parts of the American church are beginning to resemble a modern Ship of Fools, and G. Jeffrey MacDonald has fired a timely shot across its bows. A penetrating and wide-ranging analysis of consumer religion, written with sorrow rather than anger, Thieves in the Temple is good reading for any interested observers but essential for pastors and lay people concerned for the integrity of the Christian faith in the modern world."

Randall Balmer, Episcopal priest, Professor of American Religious History at Barnard College, Columbia University, and author of Thy Kingdom Come: How the Religious Right Distorts the Faith and Threatens America
"With deft analysis and uncommon wisdom, Jeffrey MacDonald has produced a devastating critique of the cult of consumerism and easy affirmation that has corrupted American Protestantism in recent years. Protestants, the author argues in this compelling, prophetic, and ultimately hopeful book, have defaulted on their historic and culturally crucial task of moral formation. Thieves in the Temple is the finest, most perceptive book on Protestant life in America in a very long time."

Jean Bethke Elshtain, Laura Spelman Rockefeller Professor of Social and Political Ethics at the University of Chicago and author of Sovereignty: God, State, and Self
"Jeffrey MacDonald's Thieves in the Temple is written with clarity and verve. He argues passionately that the wholesale embrace of a consumerist driven model of culture threatens 'the very soul' of the Christian churches, and he does so in a manner free from the spite and resentment that too often accompany such critiques. Thieves in the Temple deserves a wide readership."

Dan Rather, Global Correspondent and Managing Editor of HDNet's Dan Rather Reports
"G. Jeffrey MacDonald writes with a journalist's eye and a preacher's heart. The crisis he identifies in this provocative and timely book has serious implications not only for America's religious life but also for our broader culture and politics."

Rev. Dr. Roy J. Enquist, Emeritus professor, Gettysburg Seminary and former Canon, Washington National Cathedral
"No one seriously concerned about the future of the churches can afford to miss MacDonald's critique and vision."

Rev. Dr. Roy J. Enquist, Emeritus professor, Gettysburg Seminary and former Canon, Washington National Cathedral
"No one seriously concerned about the future of the churches can afford to miss MacDonald's critique and vision."

Tucson Citizen
"The author bemoans the rise of such institutions and calls for nothing less than a return to basics and a new religious reformation…Thieves in the Temple is a sobering call-to-arms and might be an important first step."

Christian Science Monitor
"MacDonald does outstanding work…As a journalist and minister, he's uniquely able to understand the problem from the inside out, and he supports his thesis well."