Keepers of the Keys of Heaven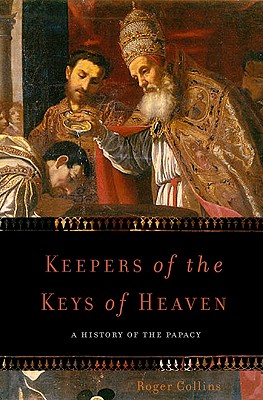 Keepers of the Keys of Heaven
A History of the Papacy
Basic Books (AZ), Hardcover, 9780465011957, 566pp.
Publication Date: March 2009
* Individual store prices may vary.
Not Currently Available for Direct Purchase
or
Shop Local
Enter your zip code below to purchase from an indie close to you.
Description
One of the most enduring and influential of all human institutions, the papacy has also been amongst the most controversial. No one who seeks to make sense of modern issues within Christendomor, indeed, world historycan neglect the vital shaping role of the popes.
In Keepers of the Keys of Heaven, eminent religion scholar Roger Collins offers a masterful account of the entire arc of papal historyfrom the separation of the Greek and Latin churches to the contemporary controversies that threaten the unity of the one billion-strong worldwide Catholic community. A definitive and accessible guide to what is arguably the world's most vaunted office, Keepers of the Keys of Heaven is essential reading for anyone interested in the role of faith in the shaping of our world.
About the Author
Roger Collins is a Fellow of the Institute for Advanced Studies, University of Edinburgh, and the author of several books on early medieval European history.
Praise For Keepers of the Keys of Heaven…
Alexander McCall Smith
"Keepers of the Keys of Heaven is an immensely readable treatment of one of the world's most important institutions. Few historians write as engagingly and wittily as Roger Collins. There is not a dull word in this spectacular triumph of accessible scholarship."

History Magazine
"Drawing on Vatican archives, accounts from papal ambassadors, spies and historians, the character and policies of the popes, from the obscure to the celebrated, are explained. Collins also addresses the crisis of the Reformation and current debates on the future of the Church, and presents an objective, revealing account of the impact and growth of the pope's power."

Theological Studies
"The book is a good read; its prose is vigorous and limpid. [Collins] has a good eye for some types of narrative detail, such as delightful factoids of papal history, the ins and outs of papal elections and the maneuverings of cardinals."