The Most Dangerous Man in America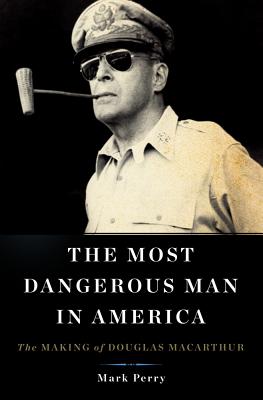 The Most Dangerous Man in America
The Making of Douglas MacArthur
Basic Books (AZ), Hardcover, 9780465013289, 380pp.
Publication Date: April 1, 2014
* Individual store prices may vary.
Buy at Local Store
Enter your zip code below to purchase from an indie close to you.
or
Buy Here
Description
At times, even his admirers seemed unsure of what to do with General Douglas MacArthur. Imperious, headstrong, and vain, MacArthur matched an undeniable military genius with a massive ego and a rebellious streak that often seemed to destine him for the dustbin of history. Yet despite his flaws, MacArthur is remembered as a brilliant commander whose combined-arms operation in the Pacific--the first in the history of warfare--secured America's triumph in World War II and changed the course of history.
In "The Most Dangerous Man in America," celebrated historian Mark Perry examines how this paradox of a man overcame personal and professional challenges to lead his countrymen in their darkest hour. As Perry shows, Franklin Roosevelt and a handful of MacArthur's subordinates made this feat possible, taming MacArthur, making him useful, and finally making him victorious. A gripping, authoritative biography of the Pacific Theater's most celebrated and misunderstood commander, "The Most Dangerous Man in America" reveals the secrets of Douglas MacArthur's success--and the incredible efforts of the men who made it possible.

About the Author
MARK PERRY, writer, reporter, and foreign policy analyst, has published articles in dozens of magazines and newspapers, including "The Nation, "The Washington Post, "The Christian Science Monitor, the" Los Angeles Times, and "New York Newsday. His critically acclaimed books include "Four Stars: The Inside Story of the Forty-Year Battle Between the Joint Chiefs of Staff and America's Civilian Leaders; Eclipse: The Last Days of the CIA; Fire in Zion: The Israeli-Palestinian Search for Peace; and Lift Up Thy Voice: The Grimke Family's Journey from Slaveholders to Civil Rights Leaders." Perry lives in Arlington, Virginia.
"From the Hardcover edition.