Right Time, Right Place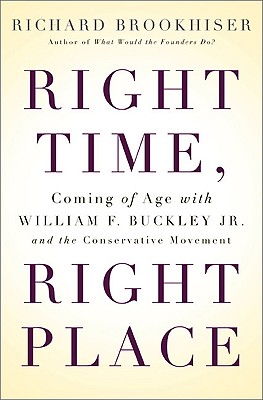 Right Time, Right Place
Coming of Age with William F. Buckley Jr. and the Conservative Movement
Basic Books, Hardcover, 9780465013555, 272pp.
Publication Date: June 1, 2009
* Individual store prices may vary.
Shop Local
Enter your zip code below to find indies closest to you.
Description
A celebrated journalist and historian chronicles his tempestuous relationship with the complex conservative icon—and the movement he created
About the Author
Richard Brookhiser is the author of nine books, including George Washington on Leadership and What Would the Founders Do? He is a senior editor of National Review. He wrote and hosted the PBS documentary Rediscovering George Washington, and appears frequently on the History Channel and the Colbert Report. Brookhiser lives in New York City.
www.richardbrookhiser.com
Praise For Right Time, Right Place…
Michael Medved, talk radio host and author of The 10 Big Lies About America
"A stirring and enormously readable account that provides a valuable reminder of the ability of a single individual to bend the course of history and alter, forever, a nation's thinking."

Rich Lowry, editor of National Review
"Richard Brookhiser has written a wonderful memoir that is a personal history of National Review and of contemporary conservativism—unabashedly honest, deeply wise, and analytically acute. Brookhiser is the prose equivalent of a fine jeweler. With his lapidary style and dazzling metaphors and erudition, he's always a marvel to read."
Lou Cannon, co-author of Reagan's Disciple
"Right Time, Right Place is a galloping good read—an honest, fast-paced, revealing memoir by one of the conservative movement's best writers. William F. Buckley emerges as a real human being, warts and all, and not just the Conservative Saint. Of course, Buckley is that, too, but he's more rounded in this book than in any other I have read."
Terry Teachout, drama critic of The Wall Street Journal
"I thought I knew Bill Buckley. Now I know better—a lot better. But Right Time, Right Place is more than just a poignant, startlingly frank memoir of a remarkable man. It is also a portrait of a pivotal moment in American political and intellectual life, seen through the eyes of a gifted writer who saw it all happen and knew what he was seeing. Anyone who wants to understand how and why the conservative movement changed America will have to reckon with this book."
Wall Street Journal
"In Right Time, Right Place, Mr. Brookhiser tells the story of his rise and fall in Buckley's world. It's an admiring, but not always flattering, portrait of the most prolific public intellectual of his time."
Washington Times
"[T]his is a beautifully written book, rich in character and anecdote, with good political reporting and a dispassionate account of Mr. Brookhiser's bout with cancer, which he handled bravely and with grace. Above all, though, it's about a young man's education and his teacher."
Mona Charen
"Absorbing reading…. [A] gripping tale…. Brookhiser tells the story of his relationship with WFB…straightforwardly and honestly…. [A] fascinating look back (how does he remember so many details?) at a 30-year friendship and collaboration (part of which I witnessed first hand). Rick's personal history with WFB parallels the rise of the conservative movement. And it will not surprise fans of Brookhiser's biographies that this memoir is a brilliant and beautifully written history of the past several decades."
Publishers Weekly
"[Brookhiser] deftly sets his personal and professional biography in a sharply observed historical and intellectual context, while sharing his deep affection for – and occasional resentment of – Buckley with compelling candor."
Kirkus Review (starred review)
"[W]onderfully conversational, occasionally confessional, frequently witty…. More than anything, though, Brookhiser reflects on his maturation as a thinker, writer and a man who for too long measured his worth against the glittering Buckley, his spiritual father, inspiration, boss and friend. Old enough now to appreciate the misunderstandings on both sides, chastened by a bout with cancer and distinguished in his own right as a historian, Brookhiser's eyes-wide-open appraisal of his mentor is deeply affectionate. Right book, right author."
Christian Science Monitor
"Right Time, Right Place is refreshingly free of spicy score settling and juicy revelations. Instead, readers get tasty morsels of candor caramelized in the searing heat of self-reflection. The result is a psychologically rich personal narrative."
New York Times Book Review
"Brookhiser is a talented and prolific writer, best known in recent years for a series of books on the founding fathers. But through much of his adult life, the center of his world was National Review. This slight but engaging memoir is the story of a young man drawn early into Buckley's orbit who struggled over many years to bask in, and at times to escape, the aura of his famous mentor."
Washington Post
"Balancing hero-worship with a frank assessment of ugly infighting at the Review…Brookhiser pays a fond farewell to the conservative icon whose death last year deprived a generation of right-wingers of its flawed ideological father…. [H]is lyrical meditation on the intersection of his own life and that of his 'lost leader' will move the most hardened Nation subscriber."
Ramesh Ponnuru, First Things
"There is no better book about William F. Buckley or National Review, and it is a good, quick sketch of the conservative movement's last few decades. The book is also a treat, written with the spare elegance and psychological insight that Rick's fans have come to expect."

City Journal
"Right Time, Right Place compellingly captures the editorial world of Buckley's National Review. As a book about recent conservative politics and magazine life, it can be fascinating."

Indianapolis Star
"[A] thoroughly engaging and fair portrayal of Buckley…. [A]s an intellectual coming-of-age memoir coupled with an insider's view of an important political movement and its leaders, this book can't be beat."