Freedom Is Not Enough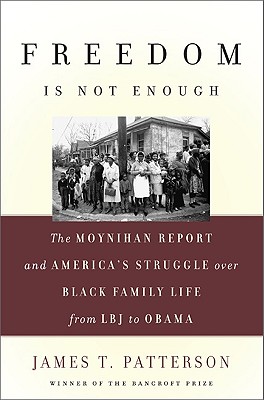 Freedom Is Not Enough
The Moynihan Report and America's Struggle over Black Family Life--from LBJ to Obama
Basic Books, Hardcover, 9780465013579, 288pp.
Publication Date: May 1, 2010
* Individual store prices may vary.
Buy at Local Store
Enter your zip code below to purchase from an indie close to you.
or
Not Currently Available for Direct Purchase
Description
A Bancroft Prize–winning historian narrates the birth, life, and afterlife of the explosive report that permanently altered the way we talk about race in America
About the Author
James T. Patterson is Ford Foundation Professor of History Emeritus at Brown University and the author of "Restless Giant," "Brown v. Board of Education," and the Bancroft Prize-winning "Grand Expectations." He lives in Providence, Rhode Island.
Praise For Freedom Is Not Enough…
William Julius Wilson, Lewis P. and Linda L. Geyser University Professor at Harvard University
"Freedom is Not Enough is a well written, insightful, and carefully documented social history of the late Senator Daniel Patrick Moynihan infamous report on black family life. Careful readers will appreciate James Patterson's excellent and balanced discussion of the events surrounding this controversial report. Indeed, although other studies have focused on the Moynihan Report, none matches Patterson's creative synthesis and analysis of the complex racial, political, social, and cultural issues that influenced both the writing of the report and the public's reaction to it. Patterson's illuminating book is a must-read."

John Dittmer, Professor Emeritus of History at Depauw University, and author of the Bancroft Prize winning Local People: The Struggle for Civil Rights in Mississippi
"Elegantly written, even-handed, and timely, Freedom is Not Enough is a tour de force. After exploring the controversy that has followed the Moynihan report down through the decades, Patterson concludes that Moynihan deserves far better than he has gotten. Not convinced? Then by all means read this book!"

E. J. Dionne Jr., author of Why Americans Hate Politics and Souled Out
"The debate unleashed by the late Daniel Patrick Moynihan over the fate of the African-American family was one of the most difficult, important and misunderstood moments in our recent history. We should all be grateful that one of our greatest and most fluent historians has turned his shrewd attention to the episode. Freedom is Not Enough explains what the controversy was really about, unearths new evidence, and makes clear that this is a debate -- as President Obama has insisted -- still vital in our time. All who are committed to social justice and equality will profit from James Patterson's riveting account."

Nathan Glazer, Professor Emeritus of Sociology at Harvard University
"James Patterson has written a full and absorbing history of the controversy that erupted over the Negro family and its connection to black poverty, in the wake of Daniel P. Moynihan's report of 1965. The issue was buried for decades, but inevitably re-emerged, shaped welfare reform in the 1990's, and is with us still 45 years after Moynihan's report."

Kirkus Reviews
"An astute, timely study of Daniel Patrick Moynihan's important 1965 jeremiad…an excellent revisiting of a prescient report."

Library Journal
"Patterson presents a history of this controversial, now vindicated, report, which for decades informed and roiled the debate over black poverty in the nation's cities."

Wall Street Journal"A concise and judicious account of Mr. Moynihan's political career, the report her made famous and the policy debates that the report inspired…Freedom Is Not Enough is written in an engaging style that makes these debates come alive again and that reminds us of their continuing importance."

Booklist"A careful analysis of the report, highlighting Moynihan's emphasis on the need for economic development in black communities with particular focus on black men and arguing for welfare assistance that did not disrupt family structures."

National Review
"This is a humble history, written without exaggeration or irony, and largely without bias. Below its modest exterior, however, lies a doleful cautionary tale about the vanity of politics and the limits of government, a tale that comes at a particularly apt political moment." Washington Post"[A] fine-grained study… Patterson's key contribution is to show how the controversy that Moynihan triggered continued to warp public discussion of the concerns he raised long after the report itself had been filed away." Journal of American History "Patterson offers a compact, well-researched, reliable, lively, and, above all, balanced account of a major social and political issue. Extremely well suited to teaching, this book, like his others, will be of value to both undergraduate and graduate students."