World War One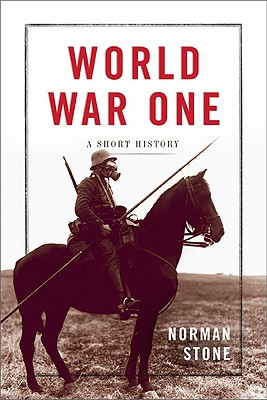 World War One
A Short History
Basic Books, Hardcover, 9780465013685, 240pp.
Publication Date: April 1, 2009
* Individual store prices may vary.
Buy at Local Store
Enter your zip code below to purchase from an indie close to you.
or
Not Currently Available for Direct Purchase
Description
An eminent historian distills the War to End All Wars into a concise and brilliant single volume
About the Author
Norman Stone has taught at universities in Britain and Turkey. He was Professor of Modern History at the University of Oxford from 1984 to 1997 and is currently Professor of History at Bilkent University. His books include The Eastern Front 1914-1917, which won the Wolfson Prize, and Europe Transformed. He lives in Ankara, Istanbul, and Oxford.
Praise For World War One…
Dallas Morning News
"Stone's book is a special pleasure – a concise, pithy mix of fact and judgment."

New York Times Book Review
"In World War One: A Short History, [Stone] examines the broad canvas of the war, taking us from 1914 to 1918. He describes, often quite vividly, the armies of the Central Powers and the Allies as they slog across the fields of Flanders and northern France, through the morass of the Balkans, across rivers and over mountains in Central Europe, chewing up farms and villages, not to mention millions of lives, in the process…. There are lovely images, adroit turns of phrase, flashes of wry British wit, amusing details."
The American Spectator
"Stone is able to pack an enormity of information into the smallest space, and with a remarkable eye for detail…. The wonder is that Stone is able to create a narrative of this sweep and brevity while also providing such evocative descriptions."
History Wire
"Lest the reader wonder how a historian could hope to encapsulate the 'Great War,' including those events that, over decades, led up to it, in a mere 226 pages, be assured that it takes a deft pen, a nimble brain, and the ability to cull the essence of events. Historian Norman Stone, who has taught for many years at Oxford and Bilkent, appears to have these qualities in spades."
Wall Street Journal
"Norman Stone's World War One is a smooth, efficient and highly readable addition to a crowded field…. It is hard to say anything new about such a well-plowed subject, but Mr. Stone manages to hold the reader's attention until the last page. His book is full of fascinating asides for those who thought that European history could hold no more surprises for them."

The Daily Beast
"Norman Stone has a rare gift, particularly for a nonfiction writer: Not a word of his feels wasted, or a sentence superfluous. He puts that talent to good use in this short history of a very big topic. The result is a work of real scholarship, which will leave you more knowledgeable—and wanting, craving, to know more."

ARMY Magazine
"Stone's voice is strong…and World War One does deliver a good overview, including major military operations, in less than 200 pages of text, an impressive accomplishment…. This short history would be an especially good companion-read to Correlli Barnett's 1979 short history, The Great War, and is worth adding to your bookshelf."
Journal of Military History
"Stone is a powerful and persuasive writer and his style in this volume makes for a fast-moving and engaging book…. World War One gives its readers a sophisticated and intelligent introduction to a vastly complex event."