Jacob's Cane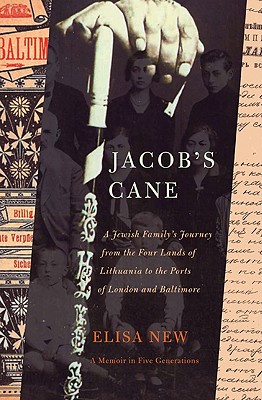 Jacob's Cane
A Jewish Family's Journey from the Four Lands of Lithuania to the Ports of London and Baltimore; A Memoir in Five
Basic Books, Hardcover, 9780465015252, 336pp.
Publication Date: September 1, 2009
* Individual store prices may vary.
Buy at Local Store
Enter your zip code below to purchase from an indie close to you.
or
Not Currently Available for Direct Purchase
Description
A five-generation family memoir that poignantly captures the Jewish American immigrant story
About the Author
Elisa New is professor of English and American literature and language at Harvard University. She is the author of The Line's Eye and The Regenerate Lyric. She lives with her husband, economist Larry Summers, in Brookline, Massachusetts, and Washington, D.C.
Praise For Jacob's Cane…
Publisher's Weekly
"…engrossing…"

"…vivifies the singular successes and tragedies of a memorable clan and should inspire readers to seek out their own family stories."

Louis Menand, author of The Metaphysical Club
"Like Andre Aciman's Out of Egypt and Rich Cohen's Sweet and Low, Jacob's Cane is a history of a Jewish family that is so much more—an imaginative recreation of two vanished worlds, Latvia and Baltimore from the 1880s to the 1940s; a natural, economic, and cultural history of tobacco, the product from which some of this family's fortune was made; and a moving personal quest. And it's a wonderful piece of writing."

Edward Serotta, Director of Centropa.org, a Jewish historical institute; author of Out of the Shadows, Survival in Sarajevo and Jews, Germany, Memory
"In this poignant and wise study, New recreates that lost world for us, rebuilding it through memories, stories and archives, and presenting it through the prism of a single family."

Stephen J. Whitfield, Professor of American Studies, Brandeis University; author of In Search of American Jewish Culture
"Elisa New has managed to honor the past while also showing how the research to recapture it is done. Because Jacob's Cane is not only an historical detective story, but is also novelistic in its evocation of character and circumstance, Professor New's book is singular, poignant, and compelling."

Paul Hendrickson, National Book Critics Circle Award-winning author of Sons of Mississippi
"Here is a Harvard professor of literature, who goes in search of her family's Lithuanian Jewish story, and finds it, and brings back something that she may not have previously realized she owned: a rich poetic voice."

Steven J. Zipperstein, author of The Jews of Odessa
"Jacob's Cane is an intricate, beautifully rendered mesh of memoir and genealogical enthusiasm. New describes places, possessions, even the rhythms of business with vividness, even sensuality."

Jonathan Wilson, Professor, Tufts University; author of A Palestine Affair and The Hiding Room
"A lovely, fully grounded, yet lyrical family memoir…Jacob's Cane wonderfully transcends its 'back to my roots' genre; its narrative is loving yet objective, informative, beautifully written and a pleasure to read."

Susan Mizruchi, author of The Science of Sacrifice
"Cultural history at its best. An engrossing exploration that reveals in its affectionate breadth the intimate ties between a Jewish family and major American manufactories."

Suzanne Wasserman, Director, Gotham Center for NYC History/CUNY Graduate Center
"Elisa New's wonderful memoir adds a rich layer to the tapestry of American Jewish history."

Henry Rosovsky, Professor Emeritus, Harvard University
"A family narrative of great fascination that includes in-depth social and economic history, all written with the pen of a poet."

Walter Isaacson, author of Einstein and Benjamin Franklin; CEO of the Aspen Institute
"A brilliant and poignant personal saga that captures the sweep of a century of Jewish life. Holding her great-grandfather's cane and her daughter's hand, Elisa New travels from Baltimore to Lithuania to London exploring the meaning of love, family, and history. It's astonishing social history wrapped in a thrilling investigative adventure."

Rabbi David Saperstein, Director, Religious Action Center of Reform Judaism
"One of the finest, most engaging books of personal genealogy I have ever read, Jacob's Cane is a dazzling, beautifully written work, with scholarly biography and moving autobiography ingeniously interwoven. The vivid, unforgettable portrayals of idiosyncratic characters, of European communities we heretofore knew only by name, and of one emblematic and fascinating American Jewish community are chronicled here with poetic grace, there with scholarly fervor, everywhere with love and urgency."

Meryl Gordon, author of Mrs. Astor Regrets
"Lyrically written and intensively researched, Jacob's Cane offers fascinating insights into Jewish geography and the Jewish émigré experience in America. A vivid and haunting book....From the tobacco warehouses of Baltimore to the elite drawing rooms of London to the bloodied fields of the Holocaust, Elisa New ventures between past and present to tell this memorable story."

Stephen Greenblatt, Cogan University Professor of the Humanities, Harvard University; author of Will in the World: How Shakespeare Became Shakespeare
"Jacob's Cane is a vivid, moving, and powerful memoir, weaving together past and present, public and private, entrepreneurial ambition and domestic intimacy. Lisa New provides a model for grasping the way in which the great historical forces of modernity—mass migration, technological innovation, war, genocide, capitalism, democracy—realize themselves not in heady abstractions but in the grainy details and the half-hidden trajectories of families."

Andrea Mitchell, NBC Chief Foreign Affairs Correspondent and host of MSNBC's Andrea Mitchell Reports
"In Jacob's Cane, Elisa New has created a breathtaking exploration of her 'roots'—a detective story written with the lyrical heart of a poet and an historian's keen eye for detail. It is an extraordinary journey through five generations of an American family, told with the dramatic sweep of a great novel."

Library Journal's Xpress
"New masterfully weaves information about tobacco's cultivation and production into her tale, creating a beautiful tapestry depicting her family's struggles and successes in this industry."

Jewish Transcript News
"New's lyrical style is engaging and almost poetic."