When Gadgets Betray Us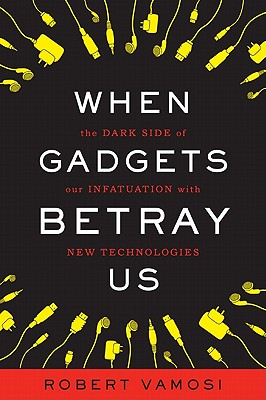 When Gadgets Betray Us
The Dark Side of Our Infatuation with New Technologies
Basic Books (AZ), Hardcover, 9780465019588, 222pp.
Publication Date: March 2011
* Individual store prices may vary.
Buy Now
or
Shop Local
Enter your zip code below to purchase from an indie close to you.
Description
All those new gadgets that you can't live without? They're giving away your secrets.
Praise For When Gadgets Betray Us…
Joe Grand, electrical engineer and author of Hardware Hacking: Have Fun While Voiding Your Warranty
"Written in a way for all to understand, Robert Vamosi exposes the dangers of inherently trusting electronic gadgets and gracefully reveals just how widespread the security problems are. You'll never treat technology the same after reading this book…and you shouldn't!"
Jeff Moss, Founder of Black Hat and DEFCON
"Like the great Oz behind the curtain, devices run our lives sometimes in unexpected ways. When Gadgets Betray Us opens your eyes to the implications of dependence on devices that don't always behave."
Kirkus

"A compelling scrutiny of the ways in which technological enhancements can be exploited for nefarious purposes... An erudite wake-up call." 
Post and Courier
"Vamosi has done his homework, offering a detailed recap of where we are now and what's coming next…
When Gadgets Betray Us
helps us become aware of the benefits and the shortfalls of many scientific marvels." 
The Guardian (UK)
"A fascinating overview of 'hardware hacking,' from lockpicking and stealing cars to tapping mobile phones or cloning Oyster cards and passports. The vulnerabilities in modern tech that Vamosi describes can be alarming… This text itself could, of course, make a fine mischief-maker's cookbook." 
Salon.com
"[H]as our technophilia left us too vulnerable? Exactly how long is the trail of digital bread crumbs we leave behind on a daily basis? . . .
When Gadgets Betray Us
, Robert Vamosi's meticulously researched new book, offers a revealing look at the dark underbelly of our rapidly advancing electronics. This is not some Orwellian indictment of new technology, but instead a call for caution: Our gadgets are evolving faster than we can successfully secure them." 
BBC Focus (UK), four-star review
"This book isn't a Luddite call to smash our smart phones. Vamosi is careful to point out how mobile tech is helping the human race worldwide, as well. All he does is ask that every sexy new gizmo be greeted with a healthy does of skepticism, and that we follow a few basic rules that will leave us with little to fear." 
New Scientist
"In
When Gadgets Betray Us
, [Robert Vamosi] points the finger at our unthinking relationship with technology. We put our faith in gizmos, he says, but our silicon helpers are too often not up to the job. . . . The interplay between humans and their gadgets is fascinating and complex. It is shaped by economics and psychology and the cultures we live in. Somewhere in the mix of those forces there may be a recipe for a more judicious use of technology, for some blend of techno-enthusiasm and common sense."
San Jose
Mercury News
"How worried should we be about the technology that pervades our daily lives, from the wireless router at home to our car to our smartphones to even, believe it or not, the chip we inserted into Fido? Very…[Vamosi's] message: We are so dazzled by our bright, shiny tech toys that we continue to strike the wrong balance between convenience and security. We must be more aware of the risks we are taking and learn to be more vigilant."
Library Journal
"You'd think the tech folks would be able to secure the data held in various devices we use daily, but Vamosi, IT security analyst and contributing editor to PCWORLD, strongly and meticulously suggests otherwise. He exposes a technology-development landscape chock-full of inadequately guarded data and programming. . . . Read this, and you'll never again ignore the default security settings on accounts or your devices again."
Law Technology News
"Vamosi is a skilled writer and the topic is fascinating, both to the non-technical and technical alike…Vamosi breaks down our infatuation with gadgets so that even those of us without information systems responsibility can think differently about how we interact with and rely on the technologies around us."
Good Men Project Magazine
"[Vamosi's] clearly done a lot of research, and his message about it all is important, too. Sometimes our gadgets really can betray us."
Post and Courier
"Vamosi has done his homework, offering a detailed recap of where we are now and what's coming next…
When Gadgets Betray Us
helps us become aware of the benefits and the shortfalls of many scientific marvels."
CHOICE
"The well-written work is valuable for all aficionados and users of modern gadgets and devices; it is an entertaining, highly informative read. Summing Up: Highly recommended."