The Atlantic and Its Enemies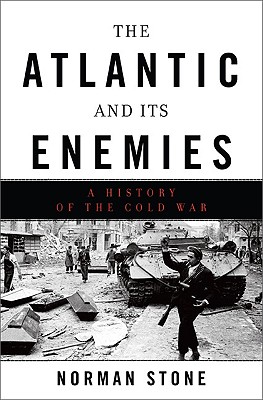 The Atlantic and Its Enemies
A History of the Cold War
Basic Books, Hardcover, 9780465020430, 712pp.
Publication Date: May 4, 2010
* Individual store prices may vary.
Buy at Local Store
Enter your zip code below to purchase from an indie close to you.
or
Not Currently Available for Direct Purchase
Description
A masterful history of the second half of the twentieth century by one of the great historians of our age
About the Author
Norman Stone is the author of World War One, The Eastern Front 1914-1917 (winner of the Wolfson Prize), and Europe Transformed. He has taught at the universities of Cambridge, Oxford, and Bilkent, where he is now Director of the Turkish-Russian Center. He lives in Oxford and Istanbul.
Praise For The Atlantic and Its Enemies…
The Economist
"[Stone] has a terrific eye for detail, bringing to life everything from the ruins of Germany to Ronald Reagan's White House with a wonderfully waspish turn of phrase…. He captures well the West's weakness, as well as the seemingly powerful challenge that eastern-style socialism posed to Western freedom."

Michael Burleigh, Spectator
"Sparkling....The book's importance is to remind us that the Cold War was an active contest, whose outcome was by no means certain....Stone has produced a powerful alternative to the Left 'liberal' reading of Cold War history, without sounding in the least triumphalist."

New Statesman"Stone's eye for the telling detail gives his account of the cold war years an edge of authenticity lacking from more conventional histories…. A beguiling mix of grand narrative and autobiographical vignettes, The Atlantic and its Enemies is the one book that anyone who wants to understand the cold war as it developed must read…. [A] rich, exuberant and melancholy book."

Wall Street Journal"[Norman Stone] paints on a broad canvas, showing how the Cold War unfolded…. The West is currently engaged in a new sort of war, with radical Islam.... Meanwhile, the economy of the developed world is more precarious than it was in the darkest hours of the 1970s. Mr. Stone doesn't stop to address the contemporary crisis, but The Atlantic and Its Enemies is an inspiring reminder that the West has risen to meet such challenges before, helped at crucial moments by bold leaders."

Library Journal"Stone, one of Great Britain's most distinguished historians, now offers his own assessment of the period between the end of World War II and the fall of the Soviet Union…. [He] bring[s] decades of erudition to his analysis; moreover, he lived in Eastern Europe during part of the period under review and brings that perspective to his work as well."

John Gray, New Statesman (London)
"Stone's eye for the telling detail gives his account of the cold war years an edge of authenticity lacking from more conventional histories…. A beguiling mix of grand narrative and autobiographical vignettes, The Atlantic and Its Enemies is the one book that anyone who wants to understand the cold war as it developed must read…. [A] rich, exuberant and melancholy book."

The Times (UK)"Brilliant....A forthright, brave history, full of wit and humanity, and readable to a degree that will delight all but the green-eyed."

Geoffrey Wheatcroft, Guardian (London)
"[Stone] knows central Europe better than most historians, and has no sympathy with the 'revisionist' claim that the west started the conflict, or that both sides were equally to blame…. All of this is told in a lively or even rollicking fashion, and the word 'personal' in Stone's subtitle is an understatement; idiosyncratic or downright eccentric might be more like it. The author is one of the great academic characters of our time."

Boyd Tonkin, Independent (London) (UK)
"Wandering, opinionated, mischievous, the book is strung between two downfalls, that of the Third Reich in 1945 and the Soviet empire in 1989. Stone's vagabond history rattles across one world-shaking scene of upheaval after another, from the Moscow-backed putsches of the late 1940s in eastern Europe via the 1960s' feast of fools and the 1970s convulsions that led to the later triumph of Thatcher, Reagan and Pinochet to the unpredicted foundering of Soviet power: Stone's terminus, and his final vindication in the face of gormless academic fellow-travellers…. The book bristles with gleeful passages of lefty-baiting provocation….In these moods, part-Evelyn Waugh, part-Jeremy Clarkson, Stone just loves to goad the liberal left. Yet they alternate with hard-headed analyses of the financial shifts behind political façades (with a brilliant account of how Saudi oil-price manipulation helped sink the Soviet Union), virtuoso sketches of pivotal events (such as Papa Doc's funeral) and enthralling, colourful swerves into memoir."

Mark Mazower, Financial Times
"Pedantic historians are just one of Norman Stone's targets in this swashbuckling survey of the cold war. Perhaps the most brilliant Europeanist of his generation, a man with an intimate knowledge of at least half a dozen countries, and the languages to match, he serves the reader a spicier fare than the pabulums provided by his more cautious brethren." TusconCitizen.com
"What gives this hefty 668-page book its literary legs is how the author has vividly captured the atmosphere of the time and the moral and political crises that tempered strategies on both sides of the Atlantic. The Atlantic and Its Enemies is full of surp









TusconCitizen.com
"What gives this hefty 668-page book its literary legs is how the author has vividly captured the atmosphere of the time and the moral and political crises that tempered strategies on both sides of the Atlantic. The Atlantic and Its Enemies is full of surprises."

Bookviews.com
"Some works of history are so monumental that they are especially deserving of praise. This is the case of Norman Stone's The Atlantic and Its Enemies."  National Review"Stone, the veteran British journalist and historian, has produced an original interpretative narrative that is idiosyncratic and downright odd in places…. Yet it is precisely Stone's departures from the standard political-diplomatic themes that enable him to offer a fresh and provocative perspective on events we might have thought thoroughly familiar…. One of the beguiling charms of Stone's narrative is the way in which his cool, understated prose bursts from the page at piquant moments, especially when describing the defects of political leaders of the 1960s and 1970s…. The Atlantic and Its Enemies [is] a worthy addition to the essential Cold War canon. Add it to your shelf." Pat Shipman, Professor of Anthropology at the Pennsylvania State University and author of Femme Fatale: Love, Lies, and the Unknown Life of Mata Hari"Nancy Marie Brown again uses her extraordinary ability to bring medieval time to life in The Abacus and the Cross, in the person of the 'Scientist Pope' Gerbert of Aurillac (later Pope Sylvester III). Working from sparse records, Brown manages to tell us of the remarkable scholar, brilliant mathematician, and inveterate punster who loved both his holy orders and luxurious living. She shows us a time in which the route to God lay through the study of science and math and when intellectual developments flowed across the boundaries of religion and empire in Eurasia. This is a remarkable book that reflects on our modern times on every page." Jeff Sypeck, author of Becoming Charlemagne "A pleasure to read, The Abacus and the Cross draws readers into a world of intrigue, superstition, and scholarship. Nancy Marie Brown writes lucidly about math and science, finding important stories in the lives of medieval people who deserve to be widely remembered."